Suckling Transport renews Michelin Solutions tyre management contract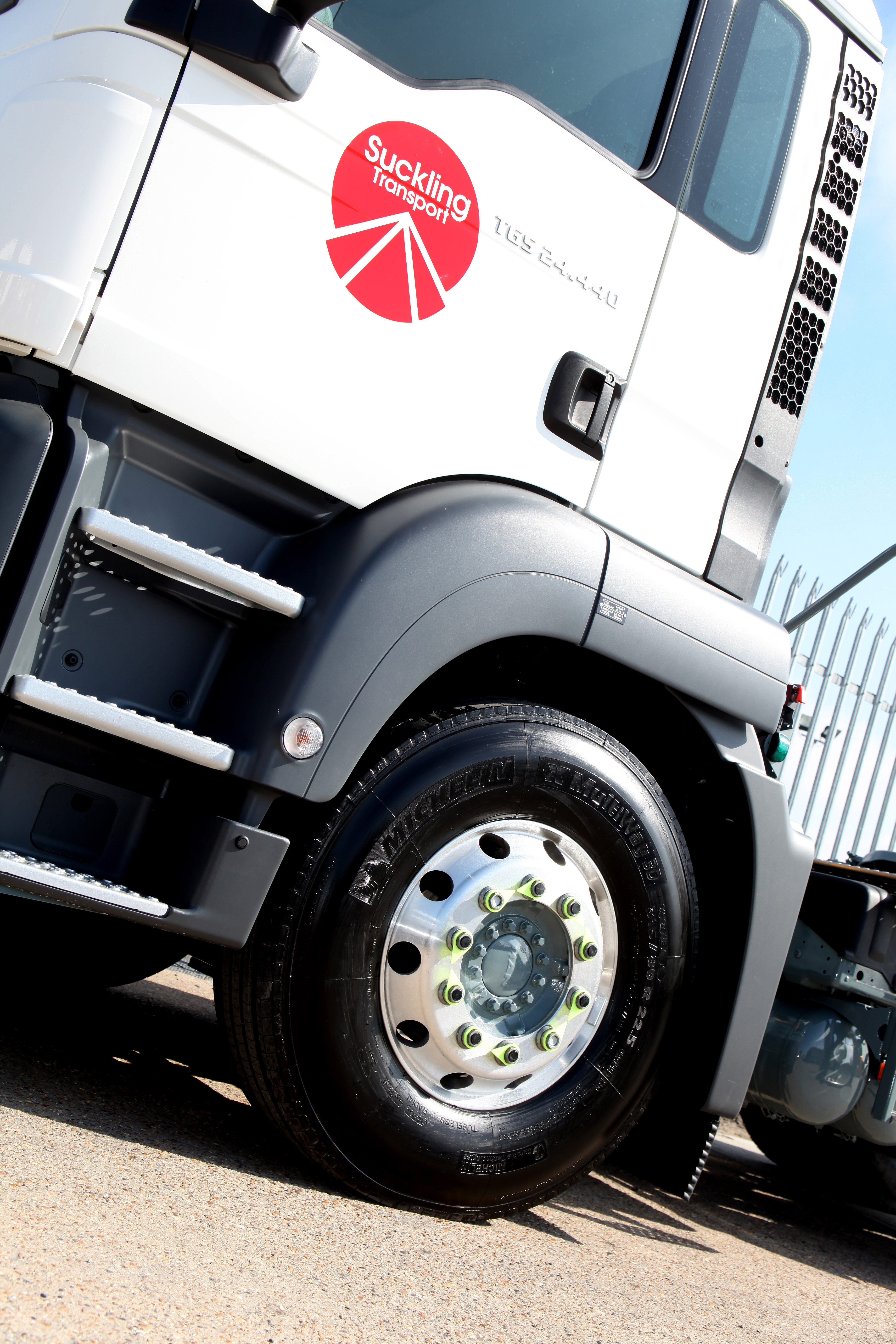 Suckling Transport has renewed its Effitires contract with Michelin Solutions. The company wants to increase safety further through effective tyre management. The Effitires contract – Michelin Solutions' name for an outsourced tyre management deal – covers the entire 168-strong Suckling Transport fleet of tractor units and trailers on a fixed pence per kilometre (PPK) contract.
Dan Bauckham, director of engineering at fuel distribution specialist Suckling Transport, explains: "Professional tyre management is vital to our business and plays a key role in our drive to reduce on-the-road incidents to zero. By renewing our contract with Michelin solutions we can ensure our vehicles are always operating on premium tyres, maintained in the best possible condition."
Michelin Solutions has appointed local service providers ATS Euromaster and Tructyre Fleet Management to support the multi-sited fleet, inspecting the tyres on each vehicle and trailer on a monthly basis. These inspections are intended to spot potential tyre service issues early, so they can be rectified immediately, while routine service work such as regrooving, turning tyres on the rim and planned tyre replacements can be scheduled at the same time. Michelin Solutions says building these efficiencies into the fleet maintenance structure helps to reduce downtime on each vehicle.
Bauckham continues: "It's essential we work with strategic-level suppliers which understand the intricacies of our operation and can support our long-term goals – that's precisely what we get from Michelin Solutions. Our business has become far more efficient since we started working together. They save us a significant amount of time and support our goal of continual business improvement."
Michelin Solutions fits tyres from the Michelin X Multi range across the Suckling Transport fleet, including the latest generation X Multiway 3D tyre fitments on the tractor units. These tyres get their name from three-dimensional tread sipes which generate grip in difficult driving conditions, locking together when needed to maintain the stability of the tread – and giving Suckling Transport's vehicles the traction they need, when they need it.
Suckling Transport was acquired by the SBG Group in 2013, which specialises in fuel distribution and operates in Italy, France, Spain and the UK. The SBG Group maintains a Michelin tyre policy throughout its European fleet, whilst Suckling Transport has fitted Michelin tyres exclusively under a PPK deal since 2008.
Suckling Transport's commitment to safety is further highlighted through it being a signatory of the European Road Safety Charter and a silver member of the Fleet Operator Recognition Scheme (FORS).