Hereford haulier wins truck in Michelin competition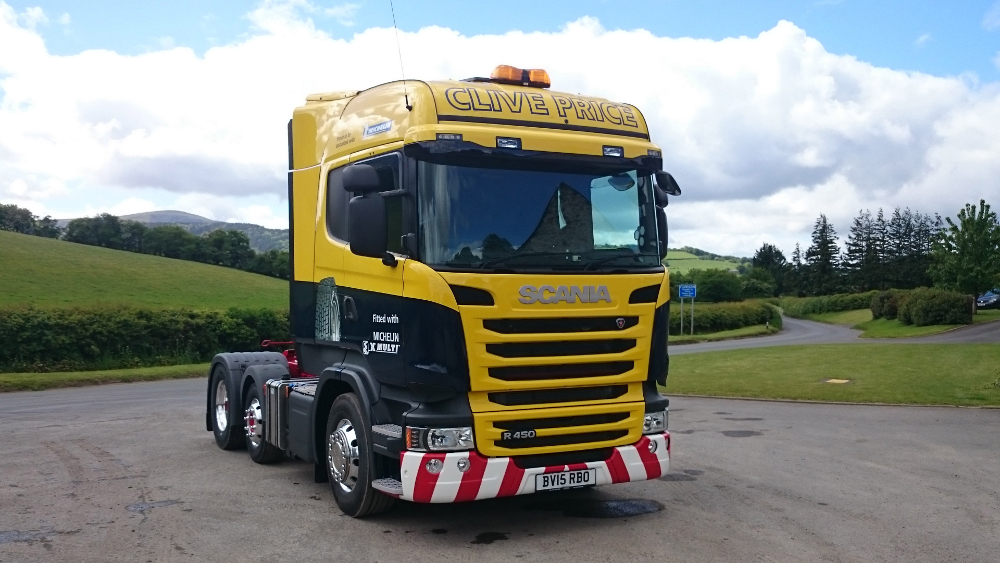 Directors at Hereford-based bulk haulier, Clive Price Transport, contest the idea there is "no such thing as a free ride" after winning a new Euro VI Scania R-Series truck in a Michelin competition.
The team became eligible for the prize after they bought a set of Michelin X MultiWay 3D tyres from their local ATS Euromaster centre in Brecon, and after being selected as winners now has use of the vehicle.
Russell Price, director at Clive Price Transport, says: "It's not often you can claim to get a free ride in this world – and never one with a tailored livery. We are absolutely delighted to have won the competition and will make sure we get the most out of the vehicle."
He added: "We have bought Michelin tyres for years because of the outstanding results we see, both on and off road. The tyre life we get is second to none and there's no compromise on fuel savings which is important for a fleet like ours which clocks up so many miles every week."
The new truck is also an opportunity for the team at Clive Price Transport to test its first set of 315/70 R 22.5 tyres, which could potentially increase fuel-savings even further.
Price said: "We have fitted 295/80s for years, but I have heard good reports about these new tyres so it will be interesting to see what results we get, and the Michelin team is going to help us with measuring that as well. Our luck is definitely in!"
Clive Price Transport operates a fleet of 12 trucks and works with businesses based anywhere between London and Liverpool.