'Two-stop' Vettel gets reacquainted with F1 victory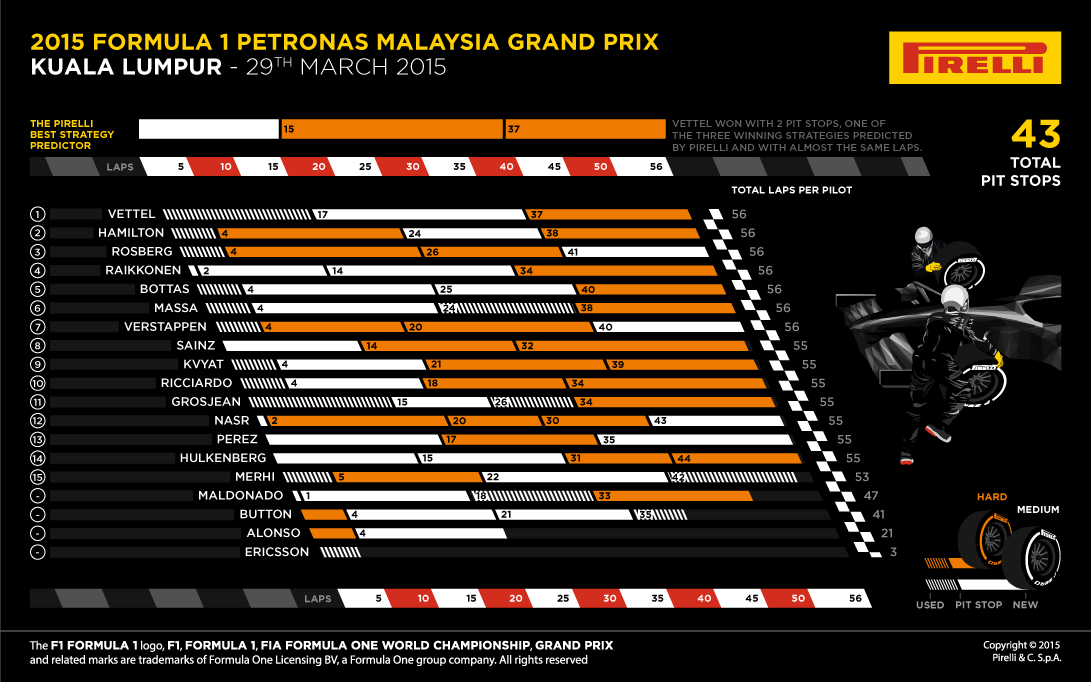 Prior to the start of yesterday's Malaysian Grand Prix, Pirelli motorsport director Paul Hembery expected teams to make three tyre change stops during the race. Four-time world champion Sebastian Vettel opted to stop only twice, and this may well have been the decisive factor in his 8.57 second victory over Lewis Hamilton. The Malaysian GP victory was the first win for Vettel and Ferrari since 2013, and this fourth victory in Malaysia – the 40th of his career – means that Vettel is now the most successful driver in the history of the Malaysian Grand Prix.
Yesterday's race took place in temperatures of up to 35.4 °C, with track temperatures soaring up to 61.4 °C. Vettel started the race on the P Zero White medium tyres and stopped for the mediums again on lap 17, finishing the race on the P Zero Orange hard compound from lap 37. Mercedes driver Lewis Hamilton, who started from pole position, used a three-stop strategy en route to second. His team mate Nico Rosberg adopted a different three-stop strategy to finish third, ending the race on the medium tyres whereas Hamilton's last stint was on hard.
All the drivers started the race on the medium compound with the exception of the two McLaren drivers, who started on the hard tyre and got into the points before retiring. An early three-lap safety car period helped to contain tyre degradation but also provided an opportunity to switch to fresh tyres, which was taken up by many of the frontrunners, while the Ferrari of Sebastian Vettel stayed out. The Mercedes of Lewis Hamilton and Nico Rosberg both made an early stop, switching to the hard tyres.
Vettel pitted from the lead for his first stop, emerging in third place behind the Mercedes drivers, and then used the speed of the medium tyre to close in on the leader and regain the advantage. The German's second and final stop for the hard compound fed him back into second place behind Hamilton, setting up a successful run to the finish after his Mercedes rival pitted for the hard tyre one lap later, following a race that revolved around tyre strategy.
Toro Rosso's Max Verstappen used a three-stop strategy to become the youngest ever driver to score points in a Formula One race at 17, comprehensively beating the record previously held by Daniil Kvyat. A three-stop strategy also helped Ferrari's Kimi Raikkonen to climb to fourth at the finish from the very back, having had to pit on the opening lap after a rear tyre was punctured following contact from another competitor.
"I think we did our bit today. We saw a great strategic battle between Ferrari and Mercedes, with two different approaches to the race, which were also influenced by an early safety car period. Despite the highest track temperatures we are likely to see all year, the tyres did not suffer from blistering or graining, enabling a two-stop strategy to be not only possible, but victorious," commented Paul Hembery. "The different tyre strategies available set up an exciting battle for the race victory and underlined the difference that using the tyres to the best effect can make. Congratulations to Ferrari and Sebastian Vettel for a truly memorable victory."