Conti EcoPlus HD3 – Continental's first low-profile drive tyre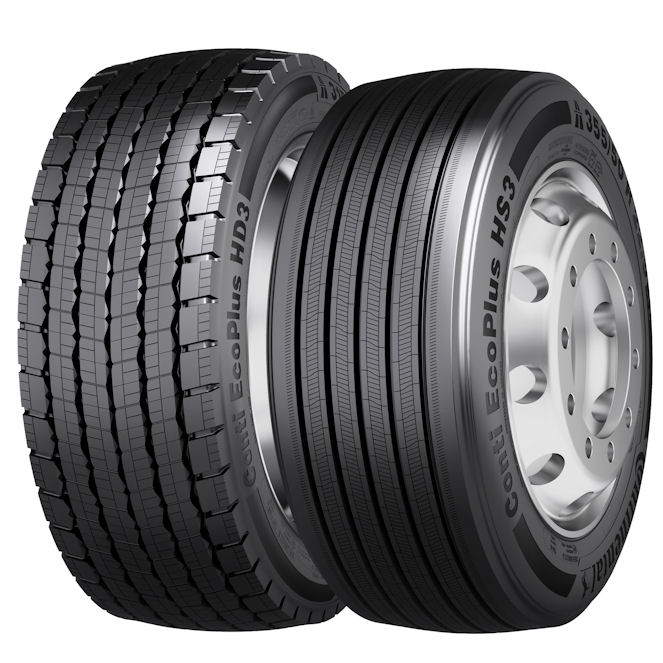 One challenge for UK-based transport companies crossing the Channel is ensuring vehicles comply with the permitted overall four metre height limit. Continental aims to address this with its new Conti EcoPlus HD3, its first drive axle tyre developed exclusively for low-liners. This 315/45 R22.5 tyre is designed for the requirements of the volume transport segment, and despite its low diameter is suitable for axle loads of 11.6 tons in twin fitment. The tyre maker says its new low profile tyre is the lowest in its class and enables the best use to be made of a trailer's three metre internal load height without exceeding the European maximum permitted total height.
With a diameter of just 852 millimetres, the Conti EcoPlus HD3 315/45 R22.5 lowers the drive unit's fifth-wheel height to ensure permitted external height is not exceeded. Continental says it worked closely with truck and trailer manufacturers when developing the tyre, and these partners modified their vehicle concepts accordingly.
The result is a tyre with a much lower diameter than a comparable 60 series tyre. In twin fitment, this tyre is still suitable for an axle load of 11.6 tons because the belt ply was constructed using 0° technology. A narrowing of the sidewall was achieved using a casing cord that is said to be "highly stable but very flexible material" and allows the casing to "easily withstand localised high bending loads" despite the lower profile. Continental also says the rubber compound used in the Conti EcoPlus HD3 315/45 R22.5 "guarantees optimum tread wear with low rolling resistance."
Like all of Continental's third generation commercial vehicle tyres, the Conti EcoPlus HD3 315/45 R22.5 is built upon a retreadable casing and is regroovable. It also features the patented 'AirKeep' inner liner, which prevents the gradual loss of compressed air. The tyre is both M+S 3PMSF approved.
The Conti EcoPlus portfolio will be further extended in the coming months with the introduction of the 355/50 R22.5 Conti EcoPlus HS3 low-profile steer axle tyre for tractor units and semi-trailers in volume transport.