Toyo Tires prevails in Sentury IP infringement case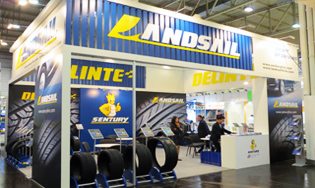 To loosely paraphrase the 2012 Taylor Swift song, Sentury Tires America is never, ever getting back together with the CLV6 tyre. In a statement released 19 February, Toyo Tire Holdings of Americas Inc. shared that Sentury has "agreed to never produce the original CLV6 tyre that was displayed at the 2012 SEMA Show or any tyre with a similar tread design" as part of the settlement it has reached with Toyo. The CLV6 was viewed by Toyo as an infringement of its United States design patent for the tread design used on its Nitto Motivo tyre.
Pursuant to the settlement, Sentury also dismissed with prejudice its action filed in Los Angeles Federal Court asserting antitrust, business tort, and patent claims against Toyo relating to the Settlement Agreements in Toyo's 2013 action before the International Trade Commission. "That action was brought to exclude the importation of infringing tyres," explained Toyo. Sentury had earlier withdrawn its antitrust claims against Toyo in response to Toyo's motion to dismiss.
"Our Toyo and Nitto tyre products have an unparalleled reputation for performance and style," said Iori Suzuki, the tyre maker's senior vice-president and General Counsel. "We remain committed to vigorously protecting our intellectual property, our investments in research and development, and our marketing efforts against those who would attempt to appropriate them."
The CLV6 SUV tyre was displayed under the Landsail brand name at the 2012 SEMA show and was available in 16 to 18-inch fitments.