TPMS kits, valves added to Hofmann Power Weight range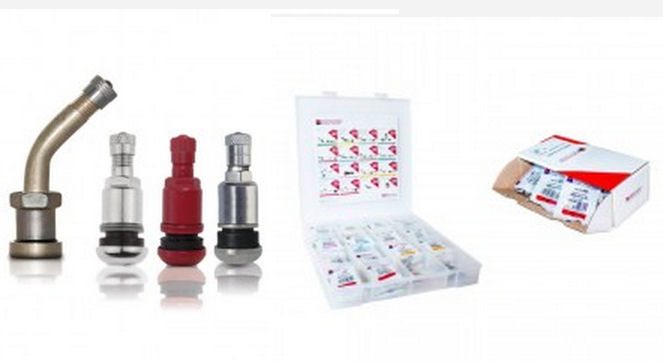 Hofmann Power Weight has added TPMS starter kits and valves to its product portfolio.
With the first of these products, the Wegmann Automotive company aims ensure "workshops are optimally prepared to maintain different tyre TPMS systems" ahead of the 1 November requirement for all new cars to be fitted with tyre pressure monitoring systems. Hofmann Power Weight notes that the widespread adoption of TPMS will be a major adjustment process for workshops. "Just as rubber valves needed to be replaced in the past when a tyre was serviced, individual TPMS sensor components will need replacing." Every time a tyre is changed, worn parts (such as bolts, gaskets, nickel-plated valves and valve caps) must be swapped, and to accommodate this Hofmann Power Weight has specifically developed original equipment-quality TPMS service kits. It says utilising the components in these kits improves safety, reduces the risk of equipment failure and prevents larger, more costly problems, such as the need to completely replace the sensor due to a corroded valve core.
The TPMS starter set provides a wide range of common service kits and covers more than 85 per cent of all new European cars. The number of individual service kits is determined by market demand. Hofmann Power Weight states that all service kits are supplied with a level of original equipment quality expected from its products, guaranteeing the optimal reliability of each individual component, even under extreme conditions.
In addition, Hofmann Power Weight is offering TPMS refill kits. These have been developed for workshops that specialise in particular vehicle makes and models in order to meet their specific requirements. The refill kits include 20 service kits of one particular type of the 18 various service kits that Hofmann Power Weight offers. Both the starter set and refill kits are now available.
Workshops and suppliers looking to find the right TPMS sensor or service kit can do so by visiting the new www.tpms-pro.com website.
Valves join product range
Hofmann Power Weight states that it strives to offer its customers the best quality, innovations and service. And this aspiration proved key to its decision to expand its product portfolio into another new area, the valve market. The valve range on offer includes products for cars and trucks along with specific solutions for tractors, earthmovers and two-wheeled vehicles.
The valves are not produced by Wegmann Automotive itself, rather they are "quality goods from China" manufactured via an offtake agreement. The company states that "only high-quality materials" are used to produce the original equipment-quality valves. In order to avoid contact corrosion, nickel-plated valve cores are used in all Hofmann Power Weight valves.