Hofmann Power Weight launches balancing compound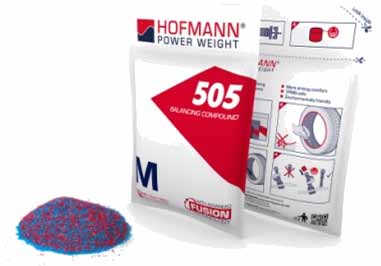 Hofmann Power Weight is now offering a new balancing solution called Balancing Compound 505. According to the company, the balancing compound works by dispersing along the tyre walls in a running tyre due to the centrifugal force. The higher the speed, the more the centrifugal force will disperse the material in the tyre and automatically push the compound opposite to the heavy spot, compensating for any vibrations.
Wegmann Automotive, the company behind Hofmann Power Weight, reports that the secret of the innovative Fusion Technology is the different size of the balancing material. The larger red kernels concentrate in the centre of the tyre and dampen the static imbalance. The smaller blue kernels move to the outside of the tyre and compensate wobbling which is caused by dynamic imbalance. The result is a smooth ride for the complete tyre life.
Other benefits include faster and easier balancing, since no balancing machine is necessary, and therefore a rebalancing is omitted. The result is said to be that the compound provides for "even tyre wear which makes the tyres ultimately lasting longer and running smoother and cooler." Furthermore, the vibration dampening increases comfort as a side effect and lets the driver reach their goal in a more relaxed fashion. In addition, fuel can be saved by better tread contact to the road.
Wegmann points out that any TPMS sensors which may be installed are not affected by the specially coated compound. Each bag contains a special valve core as well as a high quality metal valve cap with a marking protecting the valve in addition.
The Hofmann Power Weight Balancing Compound is offered in five different packaging sizes, from XS to XL. Balancing Compound 505 is on sale now.