Pelmar removing, selling equipment from Fort Dunlop motorsport tyre plant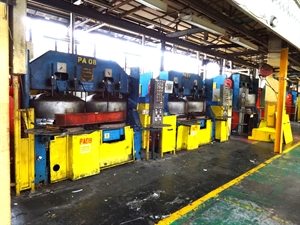 At the end of May, tyre manufacture at Dunlop Motorsport's plant in Birmingham came to an end, with car tyre production transferred to Goodyear Dunlop's Hanau factory in Germany and motorcycle tyre production to the company's Montlucon facility in France. While some of the machinery from the Fort Dunlop facility will be shipped to other sites, most will be sold off; the Pelmar Group reports that it has been appointed to dispose of equipment from the plant.
Pelmar is performing equipment acquisition and rigging work following the plant's closure. The majority of the machinery will be dismantled and sold by Pelmar and some transferred to other Goodyear Dunlop plants in France and Germany. The remaining equipment will be stored in one of Pelmar UK's warehouses and/or scrapped. Pelmar expects to complete the equipment dismantling and removal process by the end of August.
Ex-Fort Dunlop machinery being offered by Pelmar includes a complete Nakata cold feed duplex line for tyre treads, a Shaw Robinson mill, two bead winding lines for passenger car and light commercial vehicle tyres and bead automatic bead apex line, endurance testers for motorsports tyres and curing presses. Pelmar says the majority of equipment it purchased from Goodyear Dunlop is suitable for the production of passenger car, light truck, motorsport and racing tyres.