Maxam goes large in Essen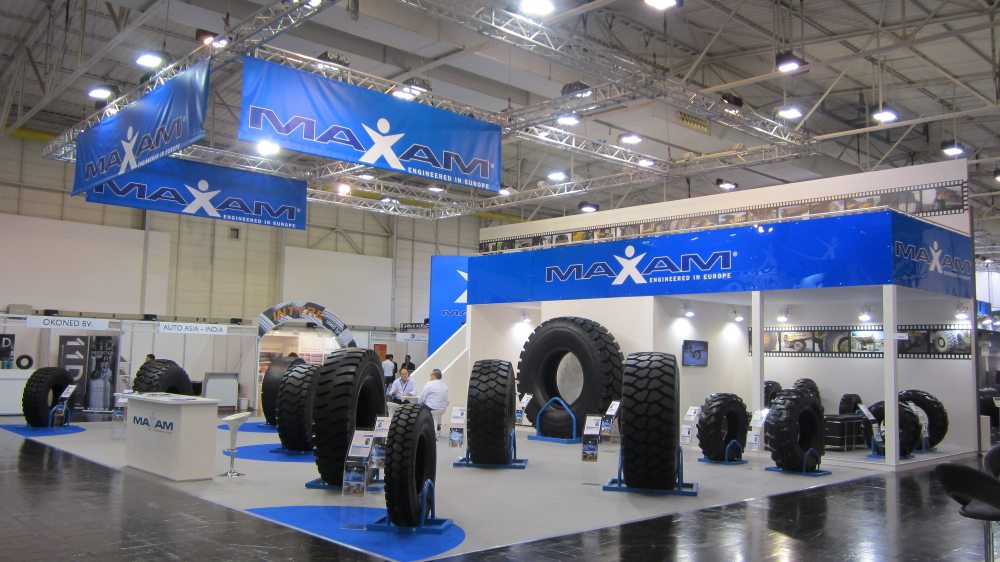 OTR brand, Maxam Tire showed 24 tyres from the company's comprehensive range of radial OTR, construction and industrial tyres on a large stand in Hall 6. The MS401 dump truck tyre proved particularly hard to miss; the tyre has an overall diameter of 2.7 metres and weighs 1,497kgs.
Maxam CEO Ian Thomas declared himself 'delighted' with the visitors' response, saying: "We wanted to make a statement and to show the extent and variety of our range – 24 tyres is the largest number we have ever shown at one time and our stand was busy throughout the show."
The tyre manufacturer was represented on-stand by a large number of senior management figures, including Kevin Buckley, sales manager europe; Peter Kraus, BDM Germany, Switzerland and Austria; Stefan Blindenberg, BDM France, Belgium, Netherlands and Luxembourg and Anne-Gaëlle Halter, marketing coordinator. Joined by dealers from South America and Australia, Maxam's presence was further enhanced by the fact that Kings Road Tyres – its exclusive dealer for construction and industrial pneumatic tyres in the UK and Ireland – were exhibiting in the same hall.
"Reifen is a great show to both meet new prospects and catch up with existing customers," said Ian Thomas, "we will certainly exhibit at the 2016 show."