Federal sponsors Man U 'soccer school' programme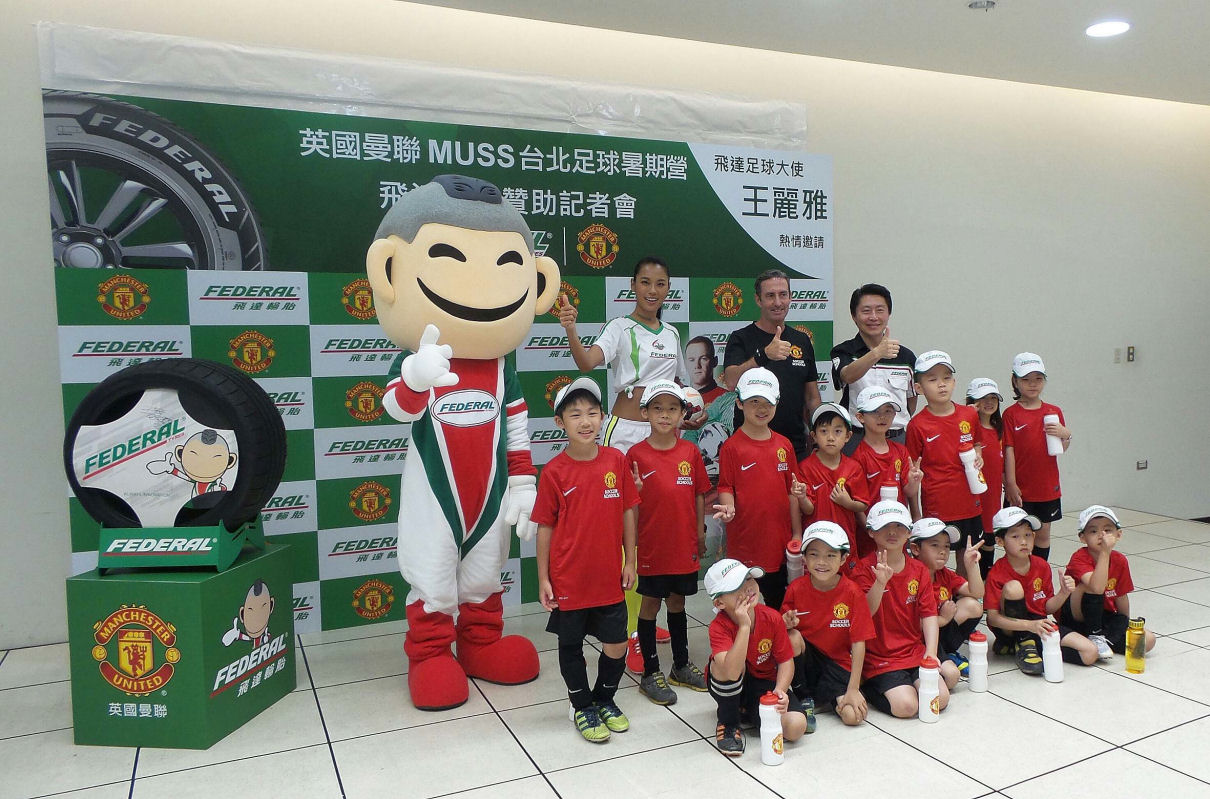 Since 1999, Manchester United has been helping young football talent develop through its Manchester United Soccer Schools, and today the Manchester United Soccer School, or MUSS, operates in a number of countries around the world. It has now been extended into Taiwan, and club sponsor Federal Tyres is sponsoring 32 children to take part in the first ever MUSS three-day programme, which will be held at the Taipei Municipal Stadium.
The 32 children, aged between aged between six and 14, are part of a group of 96 receiving a coaching curriculum designed by Manchester United coaches – the same coaching curriculum, notes Federal, used to train players like Wayne Rooney and Robin van Persie. Along with this training, Federal Tyres has also provided all participants with souvenirs including footballs, hats and tyre vouchers for their parents. Participants will compete in skill challenges, and the winner will get the chance to live the dream of walking out in front of 76,000 fans at Old Trafford stadium.
Federal Tyres is the official tyre partner of Manchester United in Russia and Taiwan. The tyre maker says it intends to capitalise on its sponsorship of the world's most famous football club to establish its products as the ultra high-performance tyres of choice for Russian consumers looking for high-speed enjoyment at an affordable price.
"It is an honour to welcome our friends from Manchester United to the home of Federal Tyres," said Federal Tyres chairman Jamie Ma. "Federal Tyres is delighted to sponsor these children and provide them with the opportunity to experience the same cutting-edge training as Manchester United's stars. Of course, our partnership extends to Russia and if we get the chance we would love to support a Manchester United Soccer School there. There are 18 million Manchester United followers in Russia, so who knows – Federal could help them uncover the next Andrei Kanchelskis!"
In Taiwan, the MUSS is being run by three senior coaches. "So far, the Manchester United Soccer School has been a great success here in Taiwan," commented coach Mick Bennett. "We have had fantastic support from Federal Tyres. The children were very excited when Feddi the mascot arrived at the camp – he got a reception like Ryan Giggs at Old Trafford. It's great that Federal have made it possible for so many children to take part in this world-class training programme because we see this as an excellent opportunity to identify talented youngsters. Apart from anything else, learning 'the Manchester United way' can help young players in so many ways – on and off the pitch – and it's always exciting to bring those skills to a new part of the world."
MUSS is holding two three-day camps in Taipei this year and hopes to continue coming to Taiwan in the years to come. Next year, in addition to Taipei, MUSS will hold camps in the Taiwanese cities of, Taichung and Kaohsiung.