Continental onside with World Cup edition tyres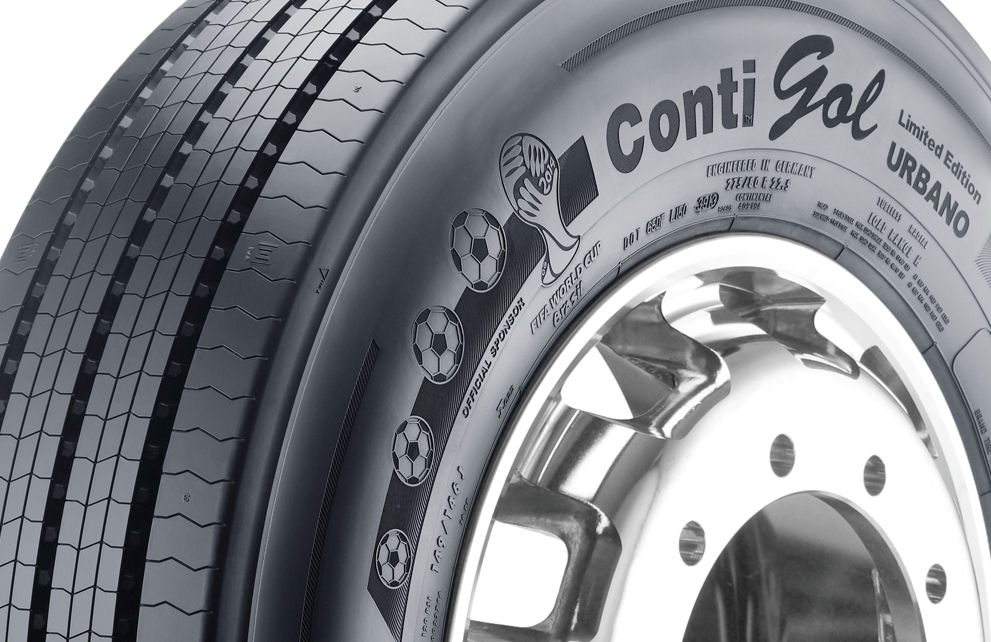 Germany's contribution to this year's World Cup hasn't just been some spectacular football and a memorable 7-1 victory over the host nation in the semi-final; sponsor Continental has produced three World Cup-themed tyres to mark the event. Each of these limited edition products feature stylised footballs and the FIFA World Cup logo on the sidewall – but unfortunately, none are available for sale here.
"The three special editions are based upon our latest premium products and impressively demonstrate current possibilities in tyre design," comments Alexander Bahlmann, head of media and publications for Continental's Tires division. "For football enthusiast customers they are therefore an attractive alternative to the mainstream products that lack this sophisticated sidewall design."
In addition to the World Cup logo and football design, the ContiGol Urbano bus tyre also has a vulcanised yellow Continental logo on the sidewall to ensure everyone knows exactly who made it – an important inclusion, considering that Continental equipped all 32 team buses and other World Cup transfer buses with the tyres (in size 275/80 R 22.5). The ContiGol Urbano is specially designed to meet the requirements of urban traffic in Brazil, such as frequent stops and changes in speed, and Continental says its new rubber compound presents a 30 per cent improvement in mileage compared to its predecessor. In addition, the ContiGol is equipped with 'AirKeep-Technology' that enables the tyre to retain its proper inflation pressure up to 50 percent longer.
"We are proud that our premium bus tyres are used on the team buses during the 2014 FIFA World Cup. As the only link between the buses and the road, the ContiGol ensures maximum safety for the world's best footballers during the tournament as well as for passengers and drivers in everyday life," remarks Dr. Andreas Esser, head of Continental's Commercial Vehicle Tires business unit. The ContiGol Urbano is produced in sizes 295/80 R 22.5 and 275/80 R 22.5 at Continental's Camaçari factory in Bahia State, Brazil and is sold in Brazil, Ecuador, Columbia and Venezuela.
For passenger cars, a special edition of the ContiPowerContact has been offered in Latin America since last year. The tyre's introduction was accompanied by an extensive advertising campaign in print and electronic media, radio and television. The ContiPowerContact is a 'green' tyre line developed for the regional market, and the range is supplied as original equipment to a number of car plants in Brazil. The tyre is also manufactured in Camaçari and is available to fit 13 to 16-inch rim diameters.
Football-mad customers in the Asia Pacific region can fit the World Cup edition of the ContiMaxContact MC 5, complete with football-themed sidewall, on their cars. The range is produced in six dimensions for 16 to 18-inch rims at Continental's plants in Hefei, China and Alor Setar, Malaysia.