British Gas adopts Michelin tyre policy under ATS-E service agreement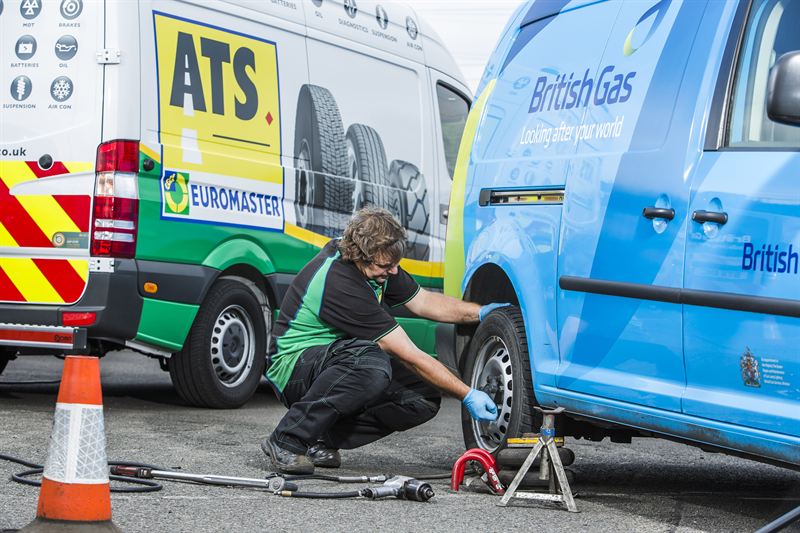 ATS Euromaster has won a significant new contract with British Gas to fit and service tyres across the energy provider's fleet of 13,000 vans. The Michelin-owned service provider says its nationwide network coverage, detailed fleet reporting and expertise in managing B2B accounts were crucial factors in securing this new account. As part of the agreement, ATS Euromaster will roll out a full Michelin tyre policy across the fleet; winter tyres, specifically the Agilis Alpin, will be the fitment of choice.
The comprehensive policy also sees ATS Euromaster's tyre inspectors performing monthly fleet checks using the company's new FleetSure tool – an electronic device that enables ATS Euromaster to measure tread depth accurate to 0.1mm. The use of FleetSure allows for a close monitoring of the tyres fitted to British Gas vehicles, ensuring the maximum amount of mileage is extracted safely from every tyre and that any issues are spotted quickly, reducing tyre-related downtime.
"It's critical to British Gas that our fleet is maintained cost-effectively and to the highest degree of safety. This new contract with ATS Euromaster has helped us to meet these challenges," states Colin Marriott, general manager, fleet at British Gas. "We have a rigorous tyre maintenance programme in place which requires inspections four times a year and winter tyres fitted as standard all year round, but ATS Euromaster has really stepped up to the job. They have already checked 1,100 of our vans in the last two weeks alone, with excellent feedback received from our engineers."
Simon Tattersall, ATS Euromaster Head of National Fleets, adds: "With nearly five decades of experience in the van sector, ATS Euromaster has the skills and expertise needed to keep British Gas' vans running, so the company can concentrate on serving its customers fully." And according to Michelin key account manager Paul Brady, the tyre maker is looking forward to supplying British Gas with the right tyres for their specific needs. "This will include cold weather tyres, which continue to be popular with van fleets as they ensure vehicles are kept mobile even in the harshest of winter conditions," he notes.
Under the agreement, British Gas drivers receive a range of benefits, including access to ATS Euromaster's network of approximately 345 service centres, more than 95 per cent of which can accommodate large vans. Should a vehicle experience tyre failure, British Gas also has access to nationwide 24/7 roadside rapid response.