Test shows varied performance from 'no-name' motorcycle tyres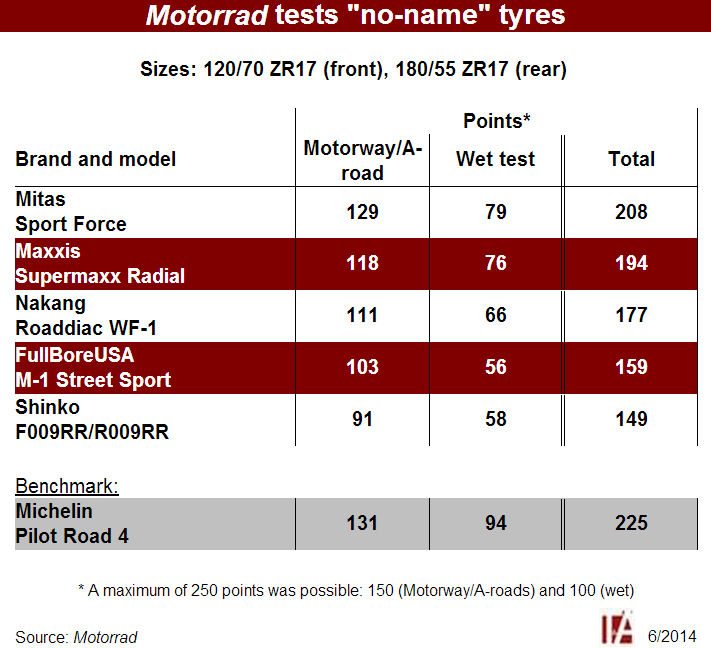 A comparative test of "no-name" tyres has been published by German motorcycling magazine Motorrad, and the results show a wide range of performance within this segment. Five brands in the 120/70 ZR17 and 180/55 ZR 17 size combination were pitted against a premium-segment benchmark tyre and tested in a range of riding conditions. The outcome? Motorrad concluded its evaluation by declaring that "so-called no-name tyres can't be judged wholesale" and that products in this category range from those that match the premiums down to technology from a bygone era.
Listed alphabetically, the tyres on test were the Full Bore USA M-1 Street Sport, Maxxis Supermaxx Radial, Mitas Sport Force, Nankang WF-1 and Shinko F009RR/R009RR. The benchmark reference tyre was Michelin's Pilot Road 4. During testing in dry conditions the performance of the best of these 'no-name' tyres was just a whisker behind the Michelin tyre, however during the wet tests the best of the bunch fell moderately behind, while two tyres vied for the wooden spoon with performance that left much to be desired.
First place winner in both the wet and dry tests was the Mitas Sport Force. Motorrad awarded the tyres from the Czech Republic manufacturer 208 points from a maximum of 250 and wrote: "Manageable, sport, affordable: The Mitas 'Sport Force' gives a markedly different ride than its competition. And it doesn't prematurely fall to its knees in the wet."
Behind the Mitas tyre was the second-placed Maxxis Supermaxx Radial with 194 points and a "conditionally recommended" rating, and the Nankang Roadiac WF-1 with 177 points. Trailing the group were the Full Bore USA with 159 points and the Shinko F009RR/R009RR with 149 points from a possible 250. Motorrad described the technology used in these last two tyres as "tyre technology from the 1990s".