Hyundai breaks six million car sales mark in Europe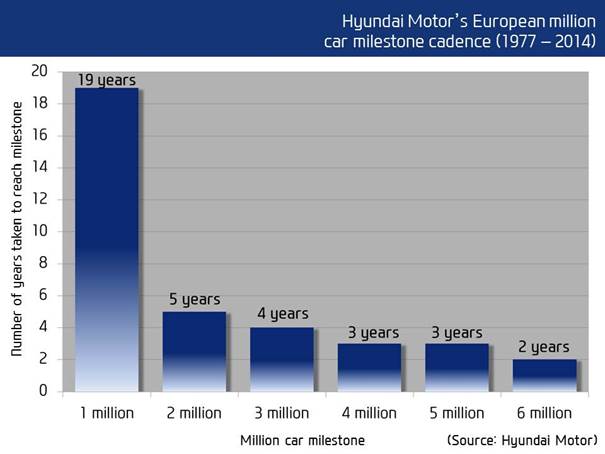 Hyundai Motor has sold six million cars to European customers since the company began sales in the region in 1977. It took the company 19 years to sell its first million cars in the region. Since then it has taken less time to reach each subsequent milestone, with the latest one million cars sold in just over two years.
Demand for Hyundai vehicles in the region has been fuelled by investment in its local infrastructure, as part of the company's strategy to build cars specifically to meet European customer needs. Hyundai has invested more than €3 billion in this infrastructure, including manufacturing, R&D and motor sport facilities.
Underlining the success of its regional investment, 95 per cent of all cars Hyundai sells in Europe are designed and developed at the company's European Technical Centre in Rüsselsheim, Germany and 90 per cent are built in the region at the company's two production plants – in the Czech Republic and Turkey.
Both factories have significantly increased production capacity to meet European demands for Hyundai products. The Czech manufacturing plant builds 300,000 units per year. The Turkish facility now has an annual capacity of 200,000 units per annum, following the introduction of New Generation i10 production at the beginning of 2014.
The company's sustained investment in the region benefits European citizens, with 152,000 people owing their jobs to the presence of Hyundai in Europe in 2012. This figure is an 18 per cent increase versus 2011, demonstrating the growing importance of the brand to the region. Hyundai made a European tax contribution of €1.3 billion in 2012 and purchased parts supplies worth €2 billion from within Europe during the same period.
The same day Hyundai announced it has broken the 6 million cars in Europe barrier, Nexen confirmed it is building a tyre factory alongside the company's car plant in Nošovice, Czech Republic.