12 rally competitors confirmed for Drive DMACK Fiesta Trophy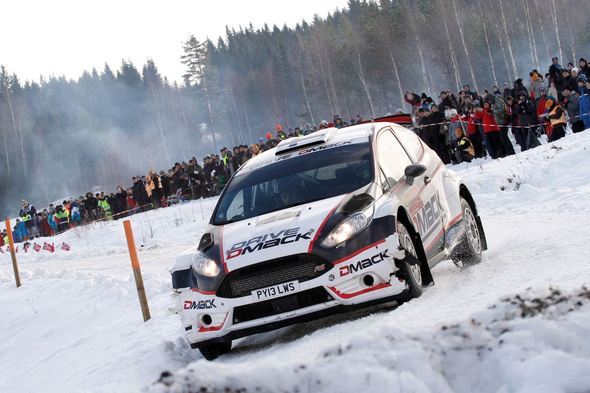 World Rally Championship tyre supplier Dmack has confirmed twelve competitors for the inaugural season of its five-event Drive DMACK Fiesta Trophy. Rising UK talent Tom Cave will compete with young talent from 10 other countries to win a prize drive in the 2015 FIA World Rally Championship. Dmack received 24 registrations from around the globe, and says the organiser's final selection gives the series a healthy mix of raw talent, close competition and a real worldwide feel. The oversubscribed contest has been pitched as a cost-effective entry level to world rallying and gives crews the opportunity to battle it out on both gravel and asphalt rounds using identical M-Sport-prepared Ford Fiesta R2s on Dmack tyres.
Dick Cormack, Dmack managing director, said: "The Drive DMACK Fiesta Trophy is set to be an exciting series and the huge prize on offer is sure to bring some close competition over the season. The list of drivers we've got is impressive and shows the true global attraction that the initiative has had. It's encouraging that DMACK can help so many talented drivers get proper WRC experience."
The high calibre of talent is outlined with competitors like Yeray Lemes, Jose Suarez and Sander Parn, who finished second, third and fourth on last year's FIA Junior World Rally Championship. They are joined by French ace Quentin Gilbert, Finn Max Vatanen – son of the legendary 1981 world rally champion Ari Vatanen – and Cave, who stunned with fastest WRC 2 times on Wales Rally GB. The winner will come away with a remarkable full seven-round WRC 2 campaign using's M-Sport popular Ford Fiesta R5 in the Drive DMACK World Rally Team.
Malcolm Wilson OBE, M-Sport managing director, said: "It is fantastic to see such a talented line-up for the first Drive DMACK Fiesta Trophy and I am delighted that we can reveal the final 12. Of course it is a real shame that we cannot accommodate all 24 applicants. The level of interest was extremely high and far surpassed all of our expectations. That said, I am confident that we have devised the best possible championship and that a very exciting competition lays ahead."
Tom Cave said: "I am incredibly excited by the prospect of contesting the 2014 Drive DMACK Fiesta Trophy. When it was announced, it was clear that this was the prime option for us this year. The series looks to be a superb concept – each rally runs over the full three days so we don't lose any of the experience that the final day offers."
Quentin Gilbert said: "We chose the Drive DMACK Fiesta Trophy as the cost is low and it means we can do a championship which has a very exciting prize. The mix of events is really good with fast gravel, rough gravel and asphalt rallies so it really is a good decision and one which I'm really looking forward to."
Max Vatanen said: "This is the best option for a young driver like me to get real WRC experience and progress my career. The competition will be intense but we will have the opportunity to impress people and aim for the fantastic prize drive. Comparing the cost to take part and the prize on offer it's definitely the best option."
The trophy will get underway with Rally Portugal on 4-6 April.