Drive DMACK Fiesta Trophy 2015 to feature new car, expanded line-up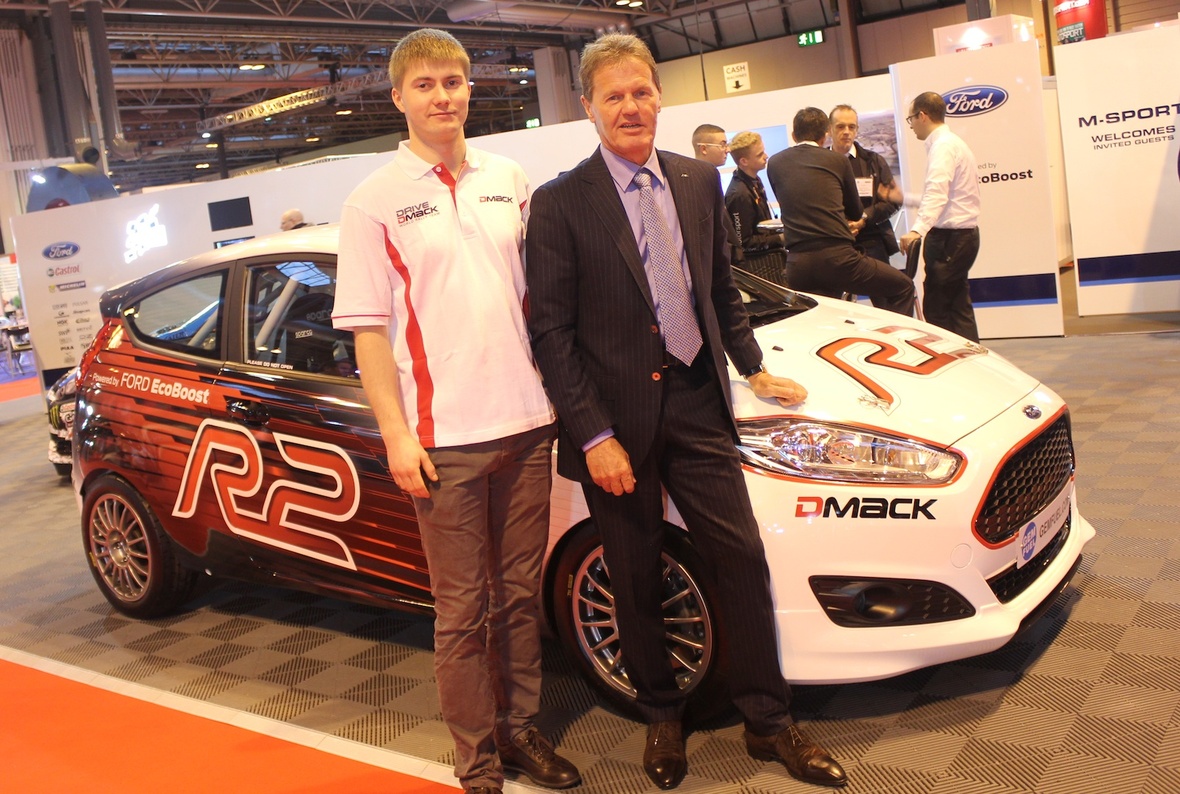 Dmack has launched the 2015 edition of its Drive DMACK Fiesta Trophy with a new car and an expanded line-up at the Autosport Show 2015. The series for emerging rallying talent is driven by tyre manufacturer Dmack and rally preparation experts M-Sport. It is competed over six rounds and five FIA World Rally Championship events, to which Dmack has been a tyre supplier since 2010.
The series' format will remain similar to that used in its inaugural year, but drivers will now compete in an improved Ford Fiesta R2 powered by Ford's 1.0 litre turbocharged Ecoboost engine. Prepared by M-Sport and equipped with the latest Dmack tyres, the series proved extremely competitive during the 2014 season. It comprises gravel rounds on Rally Portugal, Poland and Finland followed by asphalt in Germany and then a mixed-surface event in Spain.
In order to boost the fiercely competitive series even further, the final showdown at Rally de Espana will run as two separate rounds with two sets of championship points on offer. The best five scores from six rounds will count towards the championship and points will also be awarded for stage victories on all events.
Priced at £115,000, the Drive DMACK Fiesta Trophy is designed to be cost-effective and the most affordable way for aspiring drivers to showcase their talent on the world stage. As the Trophy is intended for career-minded and developing drivers, there is no age limit and organisers believe the format will be attractive to a large number of European and overseas crews, opening up access to the top level of the sport.
Drivers will fight for the huge prize of a full seven-round season in WRC 2 in 2016 – a prize Dmack describes as "the biggest package on offer in world rallying".
Malcolm Wilson OBE, M-Sport managing director, said: "Last year's Trophy was a great success and the interest that we have received so far indicates that 2015 will be no different. The new evolution, 1.0 litre Ford Fiesta R2 will provide competitors with a fantastic platform to showcase their skills and I'm expecting even more new talent to come to the fore."
Dick Cormack, Dmack motorsport director, said: "The format of the Trophy has proven both competitive and popular, and the changes introduced for this year will ensure it remains the most affordable way to compete in the WRC. Dmack has always focused on stimulating cost-effective competition by providing an affordable range of performance motorsport tyres and we've seen some great overall results during 2014. The huge prize and low-cost platform will undoubtedly result in even more interest this year."
Applications are now being accepted with full details and application forms available at www.drivedmack.com. It's anticipated that around 16 places will be available and the initial selection of competitors will take place on 27 February, however, applications will continue to be accepted until 17 April. Further details on all aspects of the Trophy are available from M-Sport's Andrew Wheatley.