Dmack on Production podium in France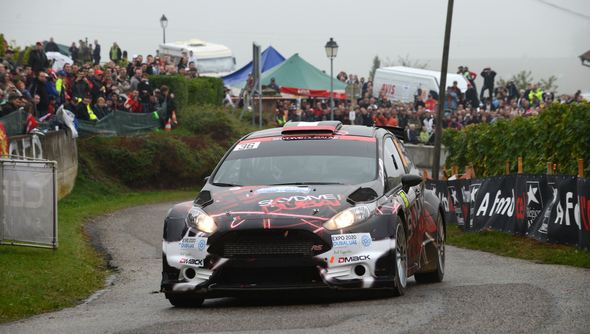 Battling some of the trickiest conditions experienced so far in this season's FIA World Rally Championship, Dmack has hailed a "successful" Rallye de France after one of its runners achieved a WRC2 Production Cup podium finish. The brand's DMT-RC asphalt tyre came through the tough rally after delivering the grip and traction needed for its runners to safely make it to the finish of the treacherous event.
The French round of the series is renowned for its slippery conditions. Searching for the fastest line through the country roads across the Vosges mountains, drivers cut corners dragging mud and gravel onto the smooth asphalt roads. This year organisers used bollards to decrease the cuts but a weekend of wet weather and soggy grass verges meant the front-running cars still pulled mud across the stages.
In line with world rally rules, Dmack's DMT-RC features a tread pattern with circumferal grooves suited for mixed conditions. Competitors were permitted to use a maximum of 24 tyres across the weekend and all opted for the proven S3 compound which worked well in similar conditions in Germany.
After bursting into life with an exciting street stage through Strasbourg on Thursday evening, the real action kicked off on Friday as crews headed south into Alsace. With generally dry conditions on the opening day, competitors could push hard on the mountains roads.
However, Saturday's fog and rain ensured conditions were even tougher with slimy roads commonplace on the stages further south around Colmar. More overnight rain soaked today's speed tests to the north of Strasbourg but the DMT-RC worked well to cope in the conditions – which caught out many drivers across the field.
Dmack crews worked hard to find the grip and make it safely to the finish in Strasbourg this afternoon. Rashid Al Ketbi in an Autotek-run Fiesta R5 was top DMACK finisher after driving an impressive rally to claim third in WRC2 and seal the last spot on the podium. Demonstrating its suitability for privateer drivers, Dmack runners also got on the the WRC2 Production Cup podium, with Mexican Ricardo Trivino leading the way in a Subaru Impreza.
Dick Cormack, Dmack motorsport director, said: "In terms of changing grip levels and surface conditions, this event was certainly one of the toughest this year. The gravel and mud dragged onto the roads meant our DMT-RC had to find traction in some difficult conditions. I'm pleased that we had such a strong result on asphalt and once again it shows how our range is suited for WRC2 and privateer competitors."