Grouptyre's Kenway celebrates 30 years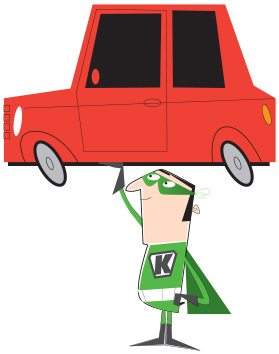 Wholesaler discusses member's landmark, its evolution and the adoption of Cam's OTC
Grouptyre member Kenway Tyres, which services the northeast of Scotland, is celebrating 30 years in the tyre business in 2013. Grouptyre says that Kenway has continued to expand over the years and built on the success of its single site in Aberdeen. Kenway now operates three retail sites in addition to its distribution business: two in Aberdeen and one in Dundee.
Kenway Tyres is the largest tyre wholesaler in the northeast of Scotland. Covering an 8,000sqm territory Kenway offers express one-hour delivery to an area from Tain to Fife. Collectively the company now employs 60 members of staff in its business and operates 16 delivery vehicles. Kenway has strengthened its position in the marketplace by servicing sectors such as 4×4 and high performance, which has been one of the opportunities derived from being a member of Grouptyre. Through on-going technical and sales support, Kenway is also able to help its customers develop their businesses and tailors its service to meet their needs.
"We're extremely proud of our achievements here at Kenway Tyres", says Kenway's managing director Alan Kennaway. "The whole team here deserves recognition for the way in which we have evolved and grown as a company. We strive daily to meet the needs of our customers in the North East, providing a friendly service, and we look forward to continuing to do so for many more years".
Grouptyre's evolution
Grouptyre's evolution over the last few years means it now numbers 10 regional wholesalers. The member companies offer daily to multiple same-day deliveries – also on demand in some cases – with a collective fleet of more than 400 delivery vehicles nationwide operating from 38 strategically located distribution points. The 10 members boast a combined stock holding of one million tyres at any one time. Grouptyre also has a team of business development managers on the ground, offering tyre industry experience and support to retailers.
In terms of the benefits Grouptyre can offer to retailers, it says its strong relationship with tyre manufacturers is key, as it allows members to access competitively priced products for their customers. Grouptyre has an extensive range of exclusive margin brand products, including Evergreen, Federal, Goodride and Landsail, with comprehensive dealer support packages for access to exclusive dealer promotions, point of sale material and merchandise.
"The industry has experienced some very difficult trading conditions over the last few years", says Paul Hollows, Grouptyre's sales director. "We're constantly striving to meet the needs of the industry and our growth and strong position in the industry has allowed us to venture into some extremely rewarding business opportunities over the past couple of years, such as Grouptyre Wholesale in the South East (a joint venture between some of our members) and the new ZR Tyres retail business (a joint venture between Tanvic Group Ltd and BA Bush Ltd). Grouptyre is certainly a force to be reckoned with within the industry."
Grouptyre adopts Cam's OTC
Grouptyre is introducing the Online Tyre Catalogue (OTC) from Cam Systems to enhance its product data and stock management function and help deliver additional accuracy to its sales processes for the benefit of its many customers nationally.
Tyre labels, amendments to article numbers, changes within categories and the movement of tyres from active to non-active statuses mean a significant amount of product information is changing on a daily basis. With over 160 brands, representing in excess of 70,000 part numbers under management within the OTC, Grouptyre's subscription to the service means it can manage its stock profile in a highly informed and effective way which helps when receiving orders from customers and placing orders on suppliers, bringing inaccuracies within the supply chain to a minimum.
Carl Murphy, IT manager of Grouptyre, says: "We've been impressed with how the OTC can deliver tyre data to us and make visible the impact of changes so Grouptyre is in a position to be making fast, assured and accurate amendments on thousands of product lines systematically."
Mike Allen, managing director of CAM Systems, adds, "With such vast amounts of product available in the commercial arena, it's vital that large wholesale operations like Grouptyre are receiving orders correctly first time, every time. OTC regularly checks, validates and publishes all the variations in labelling and other tyre data, enabling dealers likewise to be precise, which ultimately saves both parties time and money."