BMTR Celebrates 90 Years, But is it the Oldest Tyre Dealer in the UK?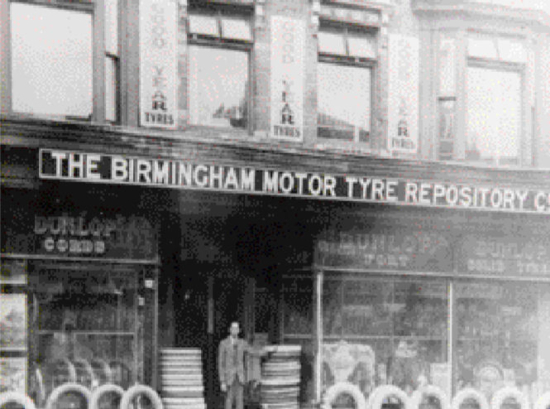 Although recent years have been challenging for the UK automotive industry, Birmingham remains a city steeped in automotive heritage. And, in the midst of some high profile casualties in recent years, BMTR says it is going from strength to strength and this year celebrates its 90th anniversary. The company clearly has some history, but is it the oldest in Britain? In order to find out, and in celebration of BMTR's 90th anniversary, Pirelli Tyres UK exclusively through Tyres & Accessories is offering a case (that's 12 bottles) of fine wine to any tyre dealer or wholesaler that can prove they are the oldest in the business. Email theeditor@tyrepress.com or call +44 (0)1782 214224 to tell your story.
BMTR celebrates 90 years of tyre market achievement
BMTR, based in Perry Bar, was formed in 1919 by Jack Smith. However, Jack's route to becoming a tyre distributor was somewhat less than direct. Jack started his working life by selling tea in rural Worcestershire, regularly travelling from Birmingham on his motorbike with tea piled high in the sidecar attached. Over the years, however, Jack noticed a trend of strange requests from his regular customers. His clients began asking him to bring a tyre next time he delivered the tea (Dunlop had opened a tyre warehouse next to his tea storage depot). He soon began delivering more tyres than tea and decided he was in the wrong business, forming Birmingham Motor Tyre Repository (BMTR) in 1919.
Jack opened up his tyre depot on Broad Street and remained at this site until the City Council compulsorily purchased it in order to undertake the Broad Street road widening project in 1960, when the company moved to Ladywood.
In 1946, following the end of the Second World War, Jack's son Don took on the company, having served in the British army during the war years. Don handed over to his two sons Peter and Paul in the 1980s and the brothers continue to run the company to this day. In 1996, BMTR relocated to the current premises in Walsall Road, Perry Barr.
Motorsport engagements
BMTR's involvement with Motorsport started in 1959, when Don Smith started racing Jaguars in UK National Racing. In the 1960s the BMTR Racing Jaguars became a familiar sight at circuits up and down the country. Current MD Paul Smith, followed in his father's footsteps by first racing karts and then progressing to become one of the top Formula Ford drivers in 1977. He progressed up the single-seater ladder competing in European Formula 2 in 1981. A switch to sports cars bought success at Le Mans in 1982 and 1983, winning the class on both occasions before their growing racing tyre business forced him to retire. The involvement in motorsport continues today, as BMTR service in the region of 80 race meetings per year with motorsport tyres and tyre advice.
Over the years BMTR has fitted an estimated 1,500,000 tyres to cars in the Birmingham region (BMTR is one of just 18 tyre retailers in the UK to have achieved Pirelli Performance Centre status) and they are possibly the oldest tyre distributor in the UK – let us know if your business is older! After all this, the company continues to successfully retail tyres out of its two Birmingham premises. BMTR has two wholesale divisions – Cartyrestore (which supplies car product across the West Midlands) and Biketyrestore, which is a major national supplier of motorbike tyres across the entire UK.
Email theeditor@tyrepress.com or call +44 (0)1782 214224 if your company is amongst the oldest in the UK.