Hawleys is the Oldest Tyre Dealer in the UK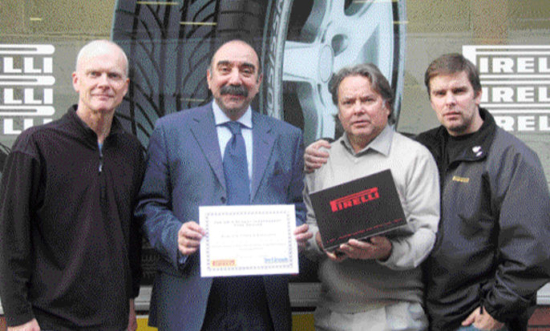 It's official, Hawleys Tyres Ltd Company is the oldest independent tyre dealer in the UK. And in recognition of the company's prestigious position as the nation's longest established tyre dealership, Tyres & Accessories today awarded Martin Hawley and directors Tim and Simon Hawley with a certificate marking the achievement and a case of wine. The prize was presented by Pirelli Tyre UK managing director Dominic Sandivasci, who presented the 12 bottles of prestigious Pirelli P Zero red wine to the Hawleys.
Today's presentation follows a national search for the tyre business' oldest dealer through Tyres & Accessories/tyrepress.com, which was initially prompted by Pirelli's interest in the subject. Originally it was thought that long-established BMTR was the oldest dealer in the country, but at 90 years old this year, the company is nearly a decade younger than Hawleys, which celebrates its centenary next year.
Hawleys Tyres Ltd Company was formed by Ernest Hawley, a taxi driver who established the business by selling tyres to other taxi drivers in the area in 1910. The business grew gradually as vehicle take-up increased, before son Ernest's son Reg Hawley took over during the 1940s, 1950s and 1960s. During this period, more depots were opened before Reg's sons David and Martin expanded the business in the 1970s. The company is now managed by Martin Hawley, his son Simon and David's son Tim. The business employs 50 people at five branches in and around Sheffield.