Tag: Melinda Topolcsik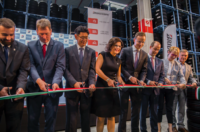 Bridgestone has inaugurated the newly expanded warehouse at its tyre production plant in Tatabánya, Hungary. The new 10,000 square metre addition to facility's warehousing was set up as part of a HUF 9.2 billion (£25.2 million) investment to develop the Tatabánya site and increases storage capacity by 180,000 tyres. The plant's warehousing can now store up to 600,000 tyres, a growth that is expected to aid Bridgestone's business with original equipment customers.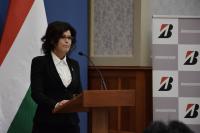 Bridgestone intends to invest a further HUF 9.2 billion (£25.3 million) in its Tatabánya tyre factory in Hungary. According to information published by Hungary's Ministry of Foreign Affairs and Trade, the investment will cover the construction of a 10,000 square metre warehouse and also facilitate an expansion of production capacity, as announced last year, to 7.2 million tyres per annum by 2020. Hungary's government will contribute HUF 826 million (£2.3 million) towards the project.