Tag: Hunter Quick Check Lane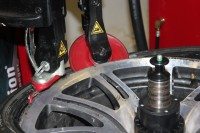 While the financial context of the last five years has undoubtedly provided a challenging market environment for many players in the tyre industry, the premium garage equipment sector has seen opportunity. As tyre retailers have broadly seen margins squeezed further as consumers look to save on tyres, so has the importance of maximising ancillary services grown. On the occasion of the launch of another trail-blazing addition to its range with the Revolution tyre changer, Hunter garage machinery supplier to the UK Pro-Align took the opportunity to show Tyrepress the effects of providing innovative services to the sector.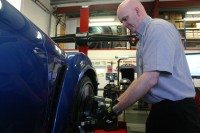 UK Hunter wheel alignment and balancing equipment supplier Pro-Align has expanded its operation in the Republic of Ireland. Pro-Align says it will support the growth of the American brand in the country with a newly created team of dedicated service and sales personnel operating under the name Pro-Align Ireland. Experienced Pro-Align UK sales executive Miles Ross will lead the team in Ireland, offering a high level of expertise to businesses considering Hunter upgrades to their wheel servicing operations.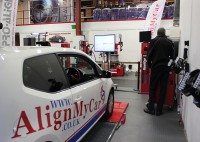 Maximising the revenue opportunities offered by services is a key part of any modern garage's strategy. The reduced margins available on tyres – and the effective outsourcing of the tyre retail process to e-Commerce websites – mean that making the most of services such as wheel alignment and diagnostic checks has become increasingly important. Pro-Align, the distributor of Hunter wheel alignment equipment in the UK, has offered one complementary tool in the recent past to speed up the diagnosis of misaligned wheels, the Hunter Quick Check, but the most recent innovation is the Quick Check Lane – a modular diagnostic system that allows garages to add brake and battery performance checks, in addition to tyre pressure and tread depth measurements to the alignment diagnosis procedure. Tyrepress visited Pro-Align's recently refurbished and reorganised unit near Towcester, Northamptonshire to see the new unit in action, while business managers Paul and Kathryn Beaurain explained the background to the latest wave of Hunter equipment innovations.