Merityre, Hometyre take wins as Autogem 'TPMS Expert' captures imagination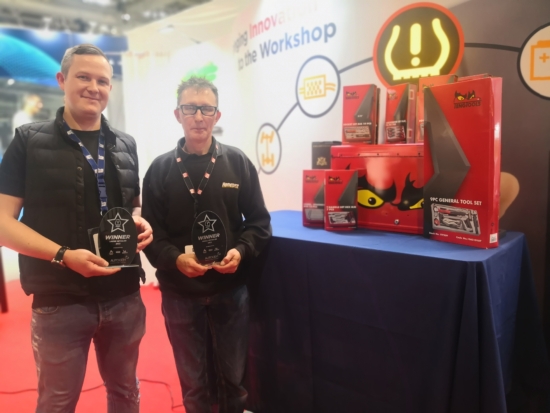 The UK Garage and Bodyshop Event at the Birmingham NEC hosted the finale of Autogem's inaugural TPMS Expert competition on Wednesday, 8 June. 12 regional finalists assembled on Autogem's stand to demonstrate their problem-solving skills in front of hundreds of onlookers, including a judging panel of industry experts. Merityre's Liam Gaynor was crowned TPMS Expert (large retailer) with Hometyre's Craig Schwartz taking the small retailer award, while all 12 finalists were commended for detecting various TPMS faults quickly and efficiently, communicating them clearly to the panel. Meanwhile Autogem, which has developed the TPMS Expert award over the past few years to help raise standards and awareness about tyre pressure monitoring systems, has been praised by automotive retail bosses and industry experts for its first nationwide competition.
More than 1,000 retail sites entered the first-ever TPMS Expert competition. Its judging panel consisting of motoring journalist Rob Marshall, chief executive at the National Tyre Distributors Association (NTDA) Stefan Hay and Autotech training director Dave Walker. They observed and questioned each finalist on 8 June after they tended to a specially prepared car on the Autogem stand, with scores awarded for all aspects of their performance.
Autogem managing director Prashant Chopra said: "We've gained so much from TPMS Expert and the competition really couldn't have gone any better. The idea has been in the making for some time now; the category hasn't had much attention over the years and we've been banging the drum about raising standards for a long time. We're now at a point where there's enough momentum in the marketplace warrant a nationwide competition like this because more and more people are engaged with TPMS.
"We've been so impressed with the finalists. The sense of professionalism and pride has been great to see. It's so nice to know that people are asking us about next year's competition now as well. This is just the beginning, so watch this space."
NTDA chief executive and official Stefan Hay added: "Autogem has done a terrific job in organising this event. TPMS is a very specialist area and growing in importance. It's an essential tool for motorists and the technicians themselves, and to see the expertise first hand has been phenomenal from independents through to national companies.
"TPMS systems have been developed to assist us and there is a certain amount of ignorance when it comes to them, but by raising awareness through events like this, it will come to the forefront more."
Jon Dennis, regional director at Micheldever Group, said: "Something like this has been long overdue to be honest, and Prashant and the Autogem team have done an excellent job in bringing TPMS to the forefront of people's conversations. Two of our team made the finals which is impressive considering the amount of technicians who entered, so I'm very proud of them both.
"TPMS is safety critical and part of the MOT test. It is important to raise awareness, which is what Autogem have done so well here."
Prashant Chopra concluded: "TPMS Expert was two of three years in the making and a great deal of hard work went into making this concept a reality, but it was worth all of the effort when looking at the final.
"It gave me an immense sense of pride to see so many talented technicians taking such passion in their work and demonstrating so much ability when it comes to TPMS. We wanted to raise awareness and standards when it comes to the issue and remind the aftermarket about the importance of TPMS as a vital safety feature.
"It's safe to say that we achieved our goal and we now want to build on this event for the future."