Nokian tyres implements Ukraine contingency plans, donates to UNICEF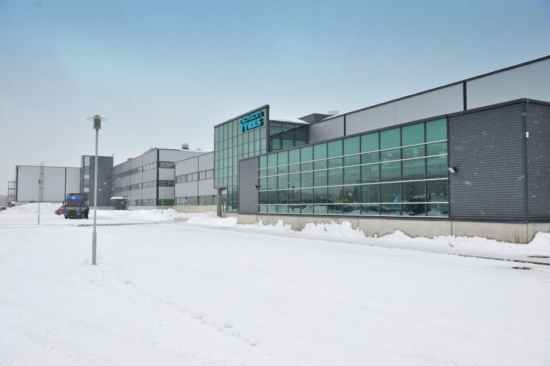 The crisis in Ukraine has impacted upon Nokian Tyres' business in multiple ways, with operations in Russia affected by transportation capacity availability and increased lead times to customers. The tyre maker is also bracing itself for further operational complications in the form of restricted raw material supplies. It has now activated contingency plans which aim to "mitigate the financial and operational impacts" upon its business. At the same time, Nokian has donated 100,000 euros to UNICEF to help children in the war zone in Ukraine.
The contingency plans involve transferring the manufacture of some key product lines from Russia to plants in Finland and the USA, and Nokian is increasing production in both locations. Although the tyre maker doesn't name the affected product lines, all are passenger vehicle tyres. The entire Nokian Tyres heavy tyre range is designed and manufactured in Finland, while tyres for trucks and buses are designed in Finland and produced in the European Union.
Other measures include securing raw material supply for Nokian Tyres factories and securing transport capacity from Russia with existing and new service providers. The tyre maker also says it is "shipping tyres closer" to customers.
Continue to do our best
"Currently, our Russian operations are impacted by transportation capacity availability, and lead times to our customers have increased," states Nokian Tyres. "The operations can be further impacted by raw material supply. We have been able to fulfil the customer orders despite the supply chain challenges and continue to do our best to serve our customers and to deliver as agreed with them."
To comply with current sanctions, some of Nokian Tyres' customers and suppliers in Russia have been required to change their bank. The company notes that "in cross-border transactions, there are delays and volume is small, as the currency trading is not working normally."
Safety is priority
Nokian Tyres stresses that the "safety of our employees is number one priority" for the company. "We will do everything we can to support our Nokian Tyres team in this situation. We have been operating in Ukraine since 2006, and during those years have built many long-lasting relationships with Ukrainian colleagues and customers.
"We have some 20 employees in Ukraine. We are in daily contact with our Ukrainian team, and as a first priority, we have taken measures to secure their and their families' safety as best as we can and we will continue our help to them, both on a personal level and as an employer."
Full capacity in 2021
Prior to the current crisis, Nokian Tyres exported around 70 per cent of the Vsevolozhsk plant's production, noting that "manufacturing in Russia represents a competitive advantage" as "tyre production costs are considerably lower in Russia than in Finland and other western countries."
The company shipped tyres from the facility near St Petersburg to more than 35 countries and claimed to be Russia's largest exporter of consumer goods. Reported annual production capacity is 17 million tyres; according to chief financial officer Teemu Kangas-Kärki, the Vsevolozhsk plant ran at full capacity in 2021 in response to "good demand".