Ernst Prost says goodbye with 1,000 gifts to workforce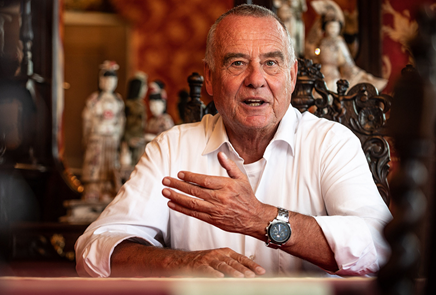 Simply retiring quietly would not be in keeping with the style of Liqui Moly's Managing Director Ernst Prost, so in a typical gesture, on his last day at work, 22 February 2022, he gave each of his 1000 colleagues a gift.
"It is an early reward of 2222 euros for everyone in the company for the 2022 financial year. This is meant as a motivational boost intended to create additional incentives so that we can return to pre-pandemic earnings levels this year," explained Prost.
Employees of the German motor oil producer were delighted when they received an e-mail from the outgoing CEO on 22.02.2022 at 22:22. Not only did the email contain words of thanks, but also a real surprise. After all, nobody expected another bonus, having already received a profit share bonus of 2000 euros each earlier this month. Now another 2222 euros will be added – unconditionally.
"I received so many lavish words of thanks for the first bonus, and good wishes for my retirement," says Ernst Prost, adding: "For many in the company, the money is a real blessing. Everything is getting more expensive and collectively agreed salary increases are being eaten away by inflation time and again" says Prost.
"This year will be another tough one. We are drowning in orders, but still struggling to source raw materials. We are going to have to work around the clock. What I can do now to say goodbye, along with now sole managing director Günter Hiermaier, is to reward our men and women in advance for their performance. The goal is to get back to the glory years before coronavirus. Not only in terms of sales, but also in terms of earnings," Prost explains.
He went on; "We have big plans. Expanding production in Ulm, a new central warehouse in Saarlouis, creating new jobs. And, of course, we want to do all of this with our own resources and not with loans. My successor Günter Hiermaier has the same mindset."
Ernst Prost has shaped Liqui Moly for decades and made it what it is today. He joined the company in 1990 as Sales and Marketing Manager. In the years that followed, he gradually bought the company and developed it into a global player. Just since the last global economic crisis in 2008, turnover has tripled from € 232 million and the number of employees has more than doubled from the 438 there were at the time. At the end of 2017, he sold his shares in the company to the Würth Group, but remained in charge as Managing Director.