Continental tyres for Kia EV6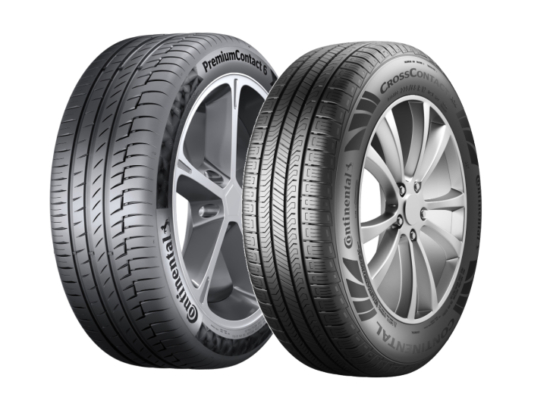 Continental is supplying two tyre models as original equipment for the Kia EV6, with customers able to choose between the PremiumContact 6 and CrossContact RX. UK customers preferring to equip their electric crossover with all-season or winter tyres can also do so, as dealers will offer a Kia-approved Continental AllSeasonContact and WinterContact TS 850.
PremiumContact 6 has been Continental's go-to tyre for surefooted and comfortable driving during the past five years, and the tyre maker says that when developing this original equipment version it optimised the tread compound for safety and braking performance on wet roads. The Kia EV6 will wear the PremiumContact 6 in size 255/45 R20 105H XL (SI) and benefit from a EU label A rating for wet grip.
With the CrossContact RX, a tyre that has received numerous approvals from global OEMs over the past couple of years, Continental says it has developed a crossover performance tyre that is characterised by its braking and handling properties, even in rough terrain. It is weighted 90/10 for on/off road use and credited with excellent braking in wet conditions due to a highly siped tread design as well as a quiet ride for everyday use. The tyre's tread pattern provides added protection against rock and stone damage, while Continental designed the sidewalls for highly responsive and precise steering. Kia EV6 models supplied with the CrossContact RX will also ride on a 255/45 R20 105H XL (SI) tyre.
ContiSilent reduces rolling noise by up to 9 db
The versions of the PremiumContact 6 and CrossContact RX chosen by Kia for the EV6 both feature ContiSilent technology. The key component of ContiSilent is a layer of vibration-dampening polyurethan foam that is bonded to the tyre's inner surface and works to reduce rolling noise sounds within the vehicle cabin by up to 9 dB. ContiSilent is compatible with all commercially available rims and in no way compromises performance, mileage, durability or top speed.
All-season and winter tyres are available as a dealer-fitted option. Kia has homologated the Continental AllSeasonContact for the EV6 in size 255/45R20 105W and the WinterContact TS 850 in 255/45R20 105V.
News of Continental's original equipment supply to the Kia EV6 follows similar announcements made by Nexen and Kumho.