More than just products: T&A speaks with TWS' Paolo Pompei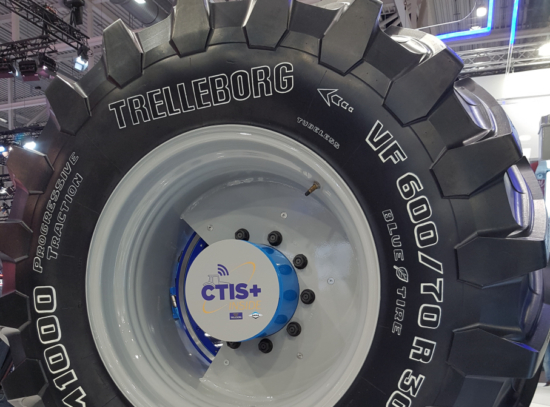 Tyre makers have a lot on their minds these days. In addition to experiencing an extraordinary couple of years that began with a virus and then mutated into a succession of rising input prices, they also need to think far beyond the traditional product development cycle. Legislation and end user expectations are driving manufacturers to explore new materials and achieve greater sustainability, while at the same time evolving technology means a growing focus upon connectivity and services. We recently caught up with Paolo Pompei to find out how Trelleborg Wheel Systems (TWS) is addressing these key issues.
The president of TWS considers parent company Trelleborg's climate and sustainability goals – including the '50 by 25' call for a company-wide halving of CO2 emissions relative to sales by 2025 – "ambitious but at the same time achievable." TWS is contributing to these goals with its adoption of nitrogen steam curing technology at all factories producing pneumatic tyres to help reduce their energy consumption. It has also introduced biomass-fired boilers at its plants in Sri Lanka in order to cut CO2 emissions by more than 90 per cent, and is additionally installing photovoltaic panels at both plants. And when purchasing energy, TWS will use green certificates to ensure this comes from renewable sources.
Another "strong topic" for TWS is achieving greater sustainability through raw materials. Pompei emphasises that this forms "an extremely important part of the agenda" to support the company's sustainability plans: "We shouldn't underestimate the importance of adopting sustainable materials."
TWS is no newcomer to this field, either. Commenting on current efforts by the world's two largest tyre makers to increase the supply and use of recovered raw materials, the TWS president says that "despite being much smaller than these competitors, we started working in this direction seven years ago with a 30-year vision to produce a tyre that is entirely made of recycled materials." The Trelleborg approach to raw materials can be summarised as reduce, reuse, recycle.
The key target is to reduce dependency upon fossil fuels and identify alternate materials, and to aid this it established a new development group in 2021. Tasked with analysing new and interesting materials to research, this Polymers for Tomorrow group monitors potential strategic collaborations for bio-based materials, recycled materials and completely new polymer solutions in accordance with the principles of circularity.
"We work with a growing number of specialist external partners," states Pompei. "We are humble enough to understand that we need to join forces with different specialists in this segment in order to get the best technology and the best available possibilities in the market worldwide today. We have different partners in Europe and in Asia Pacific as well." Although TWS prefers not to disclose the names of partners it works with, Scandinavian Enviro Systems shared as far back as 2019 that it was supplying pyrolysis-recovered carbon black to Trelleborg Lanka's solid tyre production.
Connected tyres, connected customers
Shortly before Covid-19 came to visit, TWS and Dana Incorporated presented their jointly developed Central Tire Inflation system (CTIS) concept for the agricultural machinery industry. CTIS+ Inside is an integrated central pressure control system that allows tractor drivers to inflate or deflate tyre pressures directly from the cabin. At the time, Paolo Pompei noted that CTIS+ Inside helps cut farming variable costs by as much as 20 per cent while reducing the environmental footprint of operations, but the technology is also important to the future take-up of autonomous equipment within the agricultural segment.
"CTIS+ is all about building intelligent tyres that can autonomously adapt to pressure without input from the operator, and this is in my opinion an extremely important development and the starting point for us in approaching this journey towards connectivity and intelligent tyres," comments Pompei. "Tyres equipped with sensors that read the condition of the soil or the ground and give the machine clear instructions about how it should behave are a huge part of our development plan at the moment and a big part of our investments."
TWS strives to complement its product offer with services that make life easier for customers. This is a topic close to Paolo Pompei's heart, and he holds up Amazon as a best-practice example: "Ordering tyres or any other product is simple with Amazon, just a matter of a couple of clicks or pressing a couple of buttons on your phone. We want to make sure our customers can get premium service simply by pushing a button, with tyres delivered to their site and mounted on their machine wherever they are. The tyre business is not just about product design now, it is a lot about materials, connectivity and services."
At the time we spoke with Pompei, TWS was planning to cover this subject in detail at Agritechnica 2022, however the show's cancellation means it will have to choose other means of sharing its message – perhaps the virtual showroom it launched in 2021 to circumvent lockdowns and other unexpected disruptions. We will report any announcements as and when they're made.
Rising costs, inflation – and high demand
Cancellation of events such as Agritechnica is just one of a whole host of pandemic-related concerns that TWS has needed to deal with. Paolo Pompei looks back upon the exceptional year that was: "I've been in this business since 1996 and have never seen such a strong increase in materials, logistics and energy costs at the same time. It's been a tough year in many directions and we've done our best to offset these costs as much as possible, but obviously there's a limit. We had to increase prices a few times this year." While there's little TWS could do to neutralise the rising cost of raw materials, possessing a manufacturing footprint of 14 plants across three continents ensured it fared better than many competitors when it came to logistics.
Then energy costs began to rise, first in Europe and later in Asia Pacific, China and North America. In some instances, prices are now eight times higher than previously, and the TWS president doesn't anticipate any reduction in 2022: "I think the economy is strong, demand is strong, inflation is there, therefore I don't see the macroeconomic mechanisms in play to reduce this cost."
Demand for TWS products was very buoyant in all regions and segments in 2021, particularly on the original equipment side of things. This led to some supply issues in the aftermarket. "Trelleborg Wheel Systems decided to support its original equipment customers first of all, we are their partners and believed it very important to avoid a situation where machines sat undeliverable in the yard because they were missing parts," Pompei explains. "We've been extremely loyal to our OEMS, that was a strategic decision and of course it reduced availability for our replacement customers somewhat in the first six months of the year, including in the UK. The situation is now returning to normal as we've adapted production capacities and have hired and trained new personnel."
Pompei won't speculate on the impact that inflation might have upon tyre demand in 2022 and whether it will support this demand or hinder it. "This will depend on the level of additional cost that end users are willing to pay for an agricultural or industrial machine, but at the very least we expect it will normalise the current extremely strong demand."
Growth & acquisitions
Returning to the TWS manufacturing footprint, Paolo Pompei points out that its geographic spread is wider than that of its competition. The only notable absence to this footprint is an agricultural tyre manufacturing facility in Brazil – and TWS is currently evaluating the feasibility of establishing such a plant. "We are very well set in North America, extremely well set in Europe and quite well set for Asia Pacific. We are now activating a huge joint venture with YAIPL in India for the production of moto tyres that is about to start soon, therefore I think we already have an efficient manufacturing footprint. We produce industrial tyres in Brazil but have no factory for agricultural, and Brazil is an important market for us."
Pompei doesn't elaborate on whether TWS would build its own or acquire an existing agricultural tyre facility in Brazil, but he nonetheless describes acquisitions as "one of the key priorities" of the Trelleborg Group's growth strategy. For TWS, acquisitions may open the door to segments where it isn't currently active – for example, the business area president calls polyurethane tyres an "extremely interesting" segment. Acquisitions of smaller competitors may also support geographic growth, and Pompei confirms that TWS is currently "looking at several acquisitions in Asia Pacific, where we want to grow, and grow faster." He adds that the business is interested in acquisitions in all the segments where it operates.
Ensuring continuity
Summing up 2021, Paolo Pompei reflects on the difficulties the year brought in terms of product availability for many customers due to extremely strong demand. While he is pleased to see a return to normality here, the TWS president nonetheless praises the company's global workforce for their commitment during a difficult period.
"We are very proud of our team, which continued uninterrupted during the pandemic. We managed to keep all our factories open safely and support customers worldwide. At the same time, we were extremely strong in supporting growth, having a supply chain that was extremely active in sourcing raw materials from all our suppliers and making sure that business continuity was always there."