Massey Ferguson concept wears Trelleborg carbon-free tyres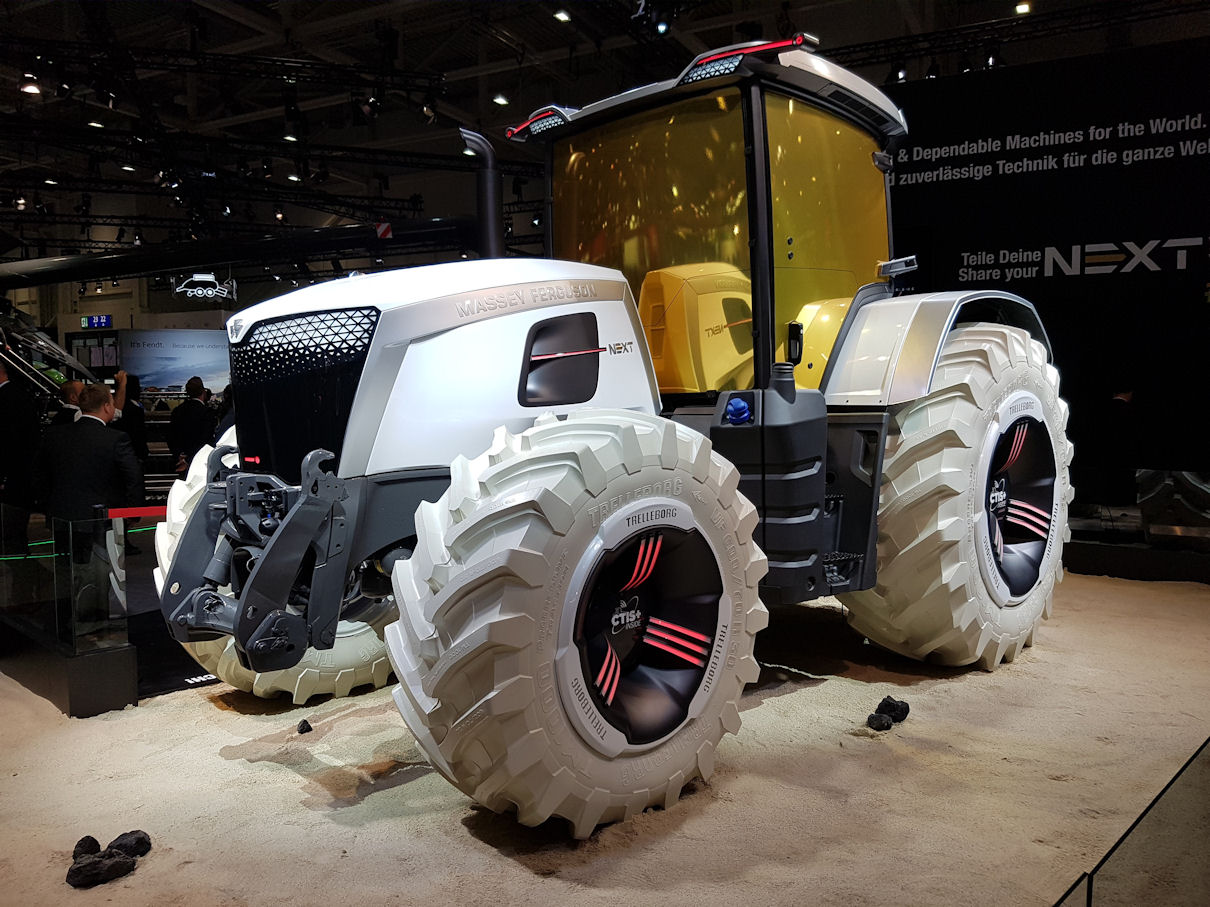 White is the new black for Massey Ferguson and Trelleborg Wheel Systems. The tyre maker has kitted out Massey Ferguson's MF Next Concept tractor with a special version of its Trelleborg TM1000 Progressive Traction. These concept tyres were manufactured using a white compound that contains absolutely no carbon. The TM1000 tyres are mounted on advanced extra light rims integrated with CTIS+ Inside, the central tyre inflation pressure system Trelleborg has co-developed with Dana.
Massey Fergusson has brought out the MF Next Concept to celebrate the 50th anniversary of the Apollo 11 Moon landing and also to demonstrate the brand's commitment to smart, future-facing farming technologies. Trelleborg's contribution serves to reduce the tractor's carbon footprint. The concept is now on display at Agritechnica 2019.
"We are strongly committed to working jointly with Massey Ferguson to continue to develop best-in-class solutions for future farming," says Paolo Pompei, president at Trelleborg Wheel Systems. "We are launching several research initiatives, including advanced tyre compound recipes, renewable components and new eco-friendly polymers, to reduce the environmental footprint of modern agriculture while improving farm productivity. The carbon-free white tyre is a marketing concept to highlight our commitment toward this challenging journey."
The extra light rims upon which the TM1000 Progressive Traction tyres are mounted are the result of a joint design initiative with Massey Ferguson. The Trelleborg CTIS+ is integrated within the inner section of the new rim and allows operators to inflate or deflate tyre pressure directly from the tractor cabin according to the recommended pressure calculated by Trelleborg Load Calculator (TLC) software.
"For decades, the close cooperation with leading tractor manufacturers in joint development and research initiatives has been a part of the Trelleborg make up. This approach will continue to drive our way forward to improve the efficiency and productivity of the industry," adds Pompei.
Thierry Lhotte, vice president & managing director Massey Ferguson Europe & Middle East, comments: "With the spectacular MF NEXT Concept Tractor, Massey Ferguson presents its dynamic future designs. It is a concept that embodies Massey Ferguson's DNA and our vision to make tractor technology accessible, easy-to-use and affordable to the most farmers around the world. Our partner, Trelleborg, is thinking like us and bringing the NEXT level of traction and soil preservation to the MF NEXT Concept."