Michelin: YTD sales up 15.6% to €17.2 billion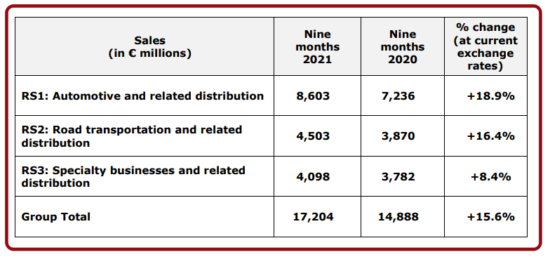 Year-on-year comparisons of financial performance tell us arguably more about global events than an individual company's economic trajectory at the moment. Thus, it came as no surprise a few months back when Michelin reported much healthier first-half results compared with pandemic-riddled 2020. Similarly, eyebrows aren't raised now when the company notes the impact of rising materials, shipping and energy costs as well as a shortage of semiconductors and labour shortages upon its performance in Q3 2021.
In the face of what it calls an "increasingly turbulent environment," Michelin reported €17.2 billion in sales for the nine months ended 30 September 2021, an increase of 15.6 per cent, and it maintains its guidance for 2021.
"Despite the persistent health crisis, the Group posted a very solid performance," said managing chairman Florent Menegaux. "In this unusual environment, which is still being roiled by major disruptions in our supply chains and sharp spikes in energy and other costs, I would once again like to express my appreciation to all our teams. Thanks to their engagement and hard work, the Group has further demonstrated its resilience and can pursue its ambitious growth strategy."
Q3 2021
Michelin shares that its original equipment passenger car and light truck tyre business shrank 21 per cent year-on-year in the third quarter of 2021, a decline it describes as "steep" and primarily caused by the continued shortage of automotive semiconductors. Volumes in the replacement segment were stable overall, decreasing four per cent year-on-year. Michelin shares that UK demand also declined at this rate whilst the entire Western and Central Europe region shrank just one per cent in the third quarter after a 22 per cent rebound in the first half of the year.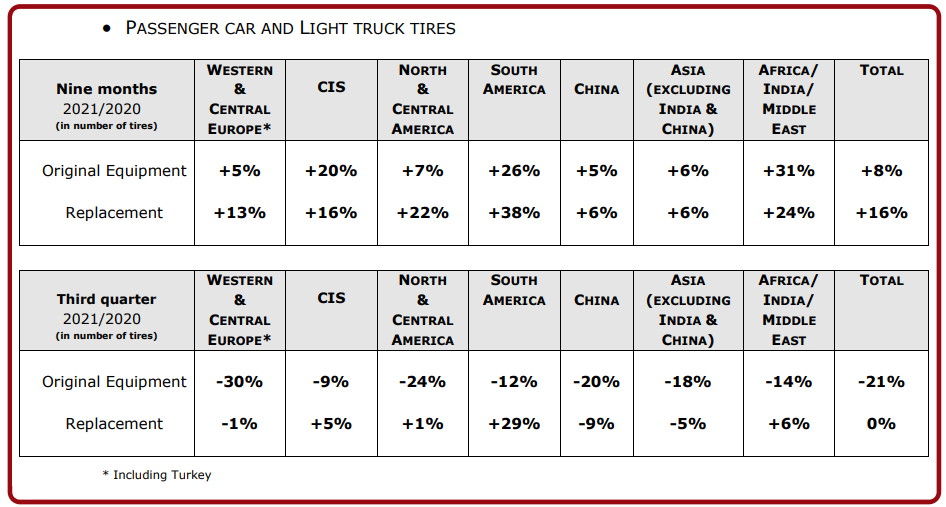 In truck tyre markets, markets outside China experienced a "robust" gain of seven per cent year-on-year, with demand rising two per cent in Europe and 13 per cent in North America; demand within the UK replacement truck tyre market was up 14 per cent year-on-year.
The Chinese market contracted by 30 per cent when compared to the strong sales achieved a year earlier. The number of new truck tyres sold worldwide declined by eight per cent in the third quarter of 2021 (original equipment -27%, replacement -3%) after climbing 25 per cent in the first half on the back of the global economic recovery and an upturn in freight demand.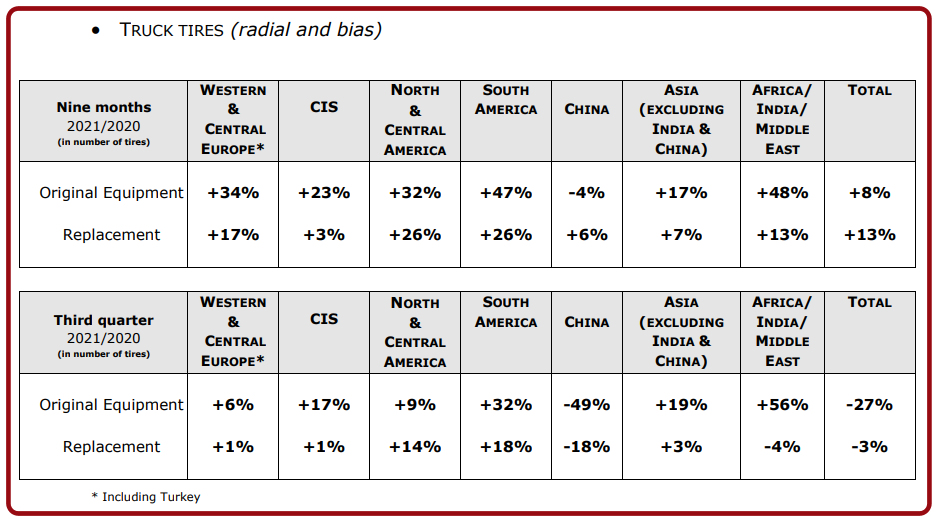 Demand for specialty tyres remained constant, and Michelin notes a "particularly strong rebound" in the original equipment construction and agricultural tyre segments.
First 9 months 2021
With sales of €6 billion in the third quarter, consolidated sales ended the first nine months at €17.2 billion, up 15.6 per cent year on year. Tyre volumes grew 14.8 per cent during the period, of which 1.3 per cent occurred in the third quarter. Michelin also experienced a 4.1 per cent increase from the tyre price-mix effect, reflecting price increases implemented to offset rising costs, continued enhancement of the product mix, with market share gains in Michelin-brand 18-inch and larger tyres, a favourable OE/replacement mix in the passenger car and light truck tyre business, a 5.8 per cent increase in non-tyre sales. A still unfavourable currency effect resulted in a 3.5 per cent decrease.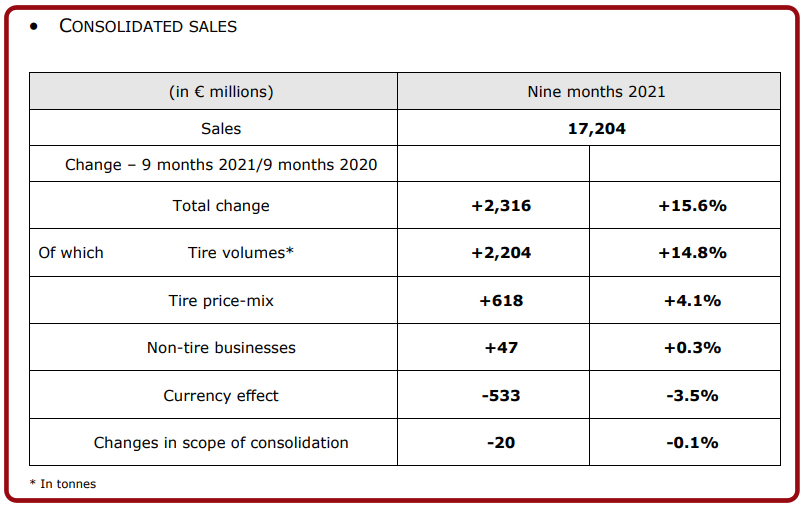 2021 outlook
Michelin anticipates that the market environment will remain "highly disrupted" for the remainder of 2021. It thus expects passenger car and light truck tyre markets to expand by six to eight per cent over the year, with performance here impacted by semiconductor shortages, while truck tyre markets should rebound by six to eight per cent and the specialty markets should see a gain of nine to 11 per cent. Barring any new systemic effect from Covid-19 and assuming slightly over-market growth in its sales, Michelin maintains its full-year targets of segment operating income in excess of €2.8 billion at constant exchange rates and structural free cash flow of more than €1 billion.