Michelin: Volumes up 7.5% in Q1 2021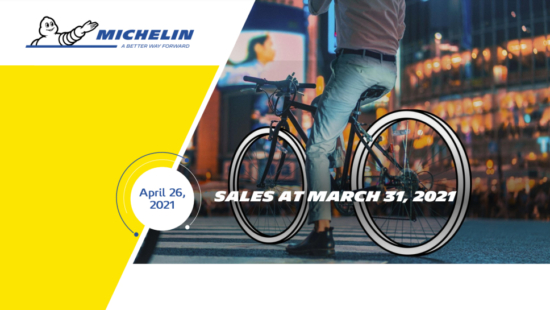 Sales of Michelin tyres were 7.5 per cent higher in the first quarter of 2021 compared with a year earlier. This rise in sales volumes was driven by 20 per cent year-on-year market growth for truck tyres in the first quarter of 2021 and nine per cent market growth for car and light truck tyres.
Specialty markets also rebounded during the quarter, propelled by agricultural, construction and two-wheeler tyre businesses. The Chinese market also proved a first-quarter highlight, with Michelin reporting that "demand rebounded sharply" across every sector, returning to "near-2019 levels."
These developments helped the company increase its sales by 8.3 per cent (at constant exchange rates) during this period, to 5.45 billion euros. Sales were 2.3 per cent higher when taking a negative six per cent currency effect into account.
"Despite the disruptions from the Covid-19 pandemic and a certain amount of disorganisation in the supply chain, Michelin delivered a robust performance in a first quarter shaped by an upturn in global demand. In addition to diligently managing its prices and strengthening its positions in the most promising growth segments, the Group continued to improve its competitiveness, in line with the Michelin in Motion strategy presented last April 8. In these challenging, uncertain times, I would like to thank everybody in the Michelin corporate community for their commitment to preparing the Group's future and sustainable growth," commented managing chairman Florent Menegaux.
Further information about Michelin Group financial performance in Q1 2021 is available here.
Europe – consumer tyres
While demand for original equipment car tyres declined in Europe in the first two months of 2021 as the chip shortage forced plants to suspend production, March logically saw an extremely robust recovery off of weak prior-year comparatives hard hit by Covid-19. OE demand ended the first quarter down four per cent in Western and Central Europe.
Replacement markets in Western and Central Europe rebounded by eight per cent, as flat sales in the first two months were offset by a 24 per cent upsurge in March, despite the restrictive measures still in place in some countries. Dealer inventories remain low.
Europe – truck tyres
In Western and Central Europe, the OE market rose by 21 per cent on a recovery that gained new momentum in March, spurred by fast growing demand in Italy and Germany.
The replacement market in Western and Central Europe rose by 17 per cent over the period. Demand was lifted by growth in Southern Europe (France, Spain, Italy), on top of the impact of favourable comparatives, helped by strong freight demand.
Global growth for specialty tyres business
First-quarter sales totalled 1,366 million euros, unchanged from the same period of 2020. Volumes rebounded by 6.2 per cent on the brisk recovery in the agricultural, construction and two-wheel tyre markets. There was a negative impact from the business mix, due to slower growth in the mining and aircraft tyre businesses, but this was partly offset by the positive price effect from the Group's sustained pricing discipline.
2021 guidance confirmed
Michelin notes that a "highly uncertain environment" continues to exist in 2021 due to the health crisis. In light of current events, it expects its passenger car and light truck tyre markets to expand by six to ten per cent over the year, truck tyre markets by four to eight per cent and specialty markets by eight to 12 per cent.
Even as raw materials and logistics costs continue to rise, the Group maintains its objective of reporting a slightly positive net impact of changes in the price mix and raw materials costs. In this scenario, and barring any new systemic impact from Covid-19 (such as supply chain disruptions or restrictions on freedom of movement), Michelin confirms its guidance, with full-year segment operating income in excess of 2.5 billion euros at constant exchange rates and structural free cash flow of around 1 billion euros.