Continental integrates printed electronics into rubber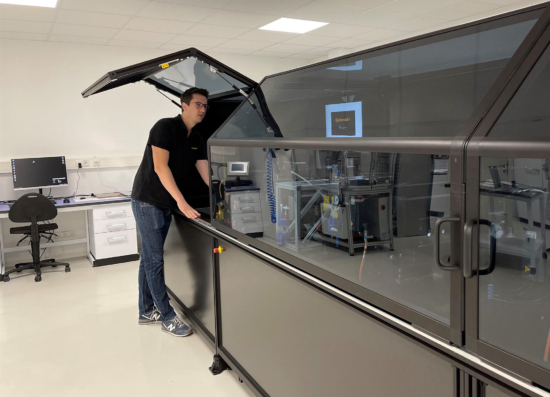 Tyres are but one product that may benefit from Continental's research into integrating printed electronics within rubber. At a facility in Freiburg, Germany, the company is working to digitalise rubber and plastic products that previously only performed mechanical tasks. Work conducted there under the leadership of Dr Tim Wolfer includes the three-year sensIC (sens for sensor and IC for integrated circuit) project, which is being co-funded by the German Federal Ministry of Education and Research to the tune of 2.9 million euros.
The sensIC project involves integrating temperature sensors into hoses used in thermal management systems within electric vehicles. Continental has "high hopes" for sensIC and foresees its use across a wide range of applications, delivering the benefit of lower production costs.
"In theory, we can use printed electronics anywhere. The product range is virtually infinite and perfectly tailored to Continental's strategy: Making products intelligent and using them to develop new business models and mobility services," says Wolfer. "Hoses are just one example. But if it works there, it will also work in air springs, belts, conveyor belts and tyres, for example."
Integrating intelligent systems & networks
Wolfer has a doctorate in mechanical engineering and took on responsibility for research projects at the Center for Functional Printing Technologies in autumn 2020. "My focus here is on integrating intelligent systems and networks. In particular, we are looking at the interface between components made of elastomers and the integration of electronics," he explains.
Prior to joining Continental, Wolfer was a group leader at the University of Hannover's Center for Production Technology, and during this time established close contacts with his current employer. He first discovered functional printing as part of his dissertation on the additive manufacturing of optical systems. "Now I'm happy to be able to contribute this knowledge to the research and development of a technology group."
Continental's declared goal for the project is to expand its product portfolio with safe electronics by integrating temperature sensor technology and communication modules into tubing systems. The resulting hybrid systems are based on a combination of printed electronics and specially manufactured silicon chips. Continental plans to complete the project in the spring of 2024.