Bridgestone/Webfleet develop integrated TPMS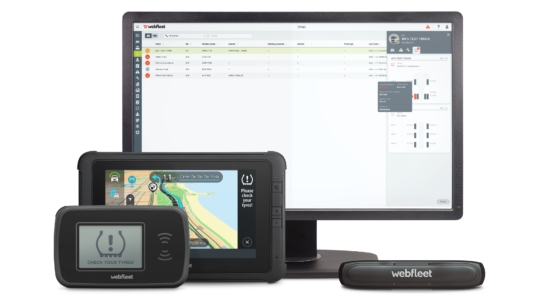 Bridgestone has announced that it has developed an integrated TPMS system for its Webfleet predictive tyre maintenance and fleet management system. Designed for heavy commercial vehicles, such as trucks and buses, Webfleet TPMS "utilises sensors that continuously monitor tyre pressure levels and tyre temperature".
According to the company, the Webfleet TPMS sensors can be fitted without removing the tyre. They also enable the TPMS solution to detect under or over inflation before it's visible. As well as increased safety and better fuel efficiency, properly inflated tyres also translate to less CO2 emissions and extended tyre life.
Paul Verheijen, vice president product management of Bridgestone Mobility Solutions, said: "The majority of heavy truck breakdowns on European roads are caused by tyre-related issues such as underinflated tyres. Manual pressure checks are time consuming and slow leaks are very difficult for drivers to detect. Webfleet TPMS is not only digitising and automating this entire process, but it also directly enables the fleet operator to make fast, informed decisions to improve road safety and reduce tyre-related costs and downtime."
"With Webfleet TPMS, we are reinforcing our market leadership in connected transport solutions," added Jan-Maarten de Vries, CEO of Bridgestone Mobility Solutions, continuing: "By adding real time tyre insights to Webfleet, transport companies have control and visibility over their entire fleet operation – all from one interface. For years, business fleets have been using telematics solutions to understand and leverage their vehicle data. Now, we are using this telematics data to optimise tyre performance."
And what's more, this is reportedly just the start: "Our TPMS solution is just the beginning of further innovations in connected tyre technology enabled by the combined strength of Bridgestone and Webfleet Solutions."