Linglong Tire cooperating with Volvo Group's Shandong Lingong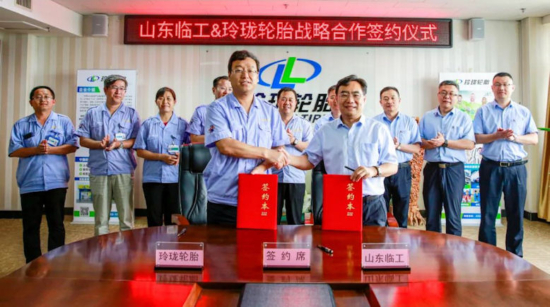 Shandong Linglong Tire has signed a strategic cooperation with Shandong Lingong, and no, this isn't a typo. The Shandong, China-based tyre maker more commonly known as Linglong Tire entered into this arrangement with Volvo Group company Shandong Lingong Construction Machinery (SDLG) on 29 June. Wang Feng signed the cooperation on behalf of Linglong Tire, with Wen Degang, SDLG general manager, performing the honours for the construction equipment company.
According to Linglong Tire, the strategic cooperation between the two parties is a "strong alliance" of leading companies. The partners will cooperate on the design and development of construction machinery products and work to improve quality and optimise costs. At the same time and, as Linglong Tire states, in "view of the common goal of both parties' intelligent development and global layout", they will take advantage of synergies and share resources when collaborating on projects pertaining to Automated Guided Vehicle (AGV) and Electrified Monorail System (EMS) solutions that are used in smart manufacturing.
In light of highly concentrated competition within the machinery industry, Linglong Tire considers supply chain competitiveness "crucial" to developing a presence. The tyre maker says it will "continue to benchmark the world's first-class parts companies" and cooperate with SDLG and other companies to "promote the sustainable and high-quality development of China's machinery industry through quality improvement and technological innovation."
About SDLG
SDLG was established in 1972 and develops, manufactures and markets a broad range of products, including wheel loaders, excavators and backhoe loaders. Volvo Group, which acquired SDLG in 2007 by procuring 70 per cent of the company's shares, reports that these products are "sold to customers focused on reliable and competitive equipment, primarily in China and other emerging markets."
SDLG isn't the first Volvo Group company to formalise a cooperation with Linglong Tire. In 2019 the tyre maker signed such an agreement with Geely Auto Group. This in turn extended and continued a relationship that began in 2012 and included supplying original equipment tyres to Geely models.