Reduced rolling resistance for updated Conti EcoPlus range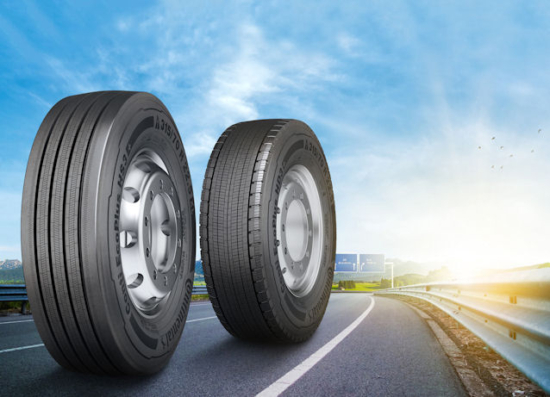 Continental is rolling out the latest-generation Conti EcoPlus range, the Conti EcoPlus 3+. It states that thanks to these tyres' reduced rolling resistance and higher fuel efficiency, it can offer fleet operators "an optimised commercial vehicle tyre."
Providing details of its new long-distance transport tyres, Continental says they impress with a "further significant reduction" in rolling resistance, achieved through the application of an "innovative rubber compound." In addition to using a compound optimised for long-distance transport applications, Continental utilises an improved manufacturing process that harmonises rolling resistance and mileage.
Continental will offer the Conti EcoPlus HS3+ and Conti EcoPlus HD3+ steer and drive axle fitments from July in size 315/70 and release further dimensions from October 2021. It will follow this up with the Conti EcoPlus HT3+ trailer tyre next year.
Conti EcoPlus HS3+ & EcoPlus HD3+
In comparison to its predecessor, the steer axle Conti EcoPlus HS3+ has up to seven per cent lower rolling resistance. Continental says it achieved this reduction by using an innovative tread and sidewall compound and an optimised base compound. "With the product line update, we have also further improved the durability, robustness and mileage of this tyre line," adds Hinnerk Kaiser, head of truck and bus tyre development at Continental.
Rolling resistance for the drive axle Conti EcoPlus HD3+ is up to 12 per cent lower than that of its predecessor, and Continental again points to the "innovative tread and sidewall compound." In addition, a "special technology" reduces deformation in the tyre's sidewall and bead area and thus further reduces rolling resistance.
Calculation tool aids tyre choice
Lower fuel consumption is good for both a fleet's bottom line and the environment. Tyre rolling resistance can influence fuel consumption by up to 30 per cent, making it a crucial characteristic for tyre developers. The aim at European level is to significantly reduce CO2 emissions within the transportation industry by 2030, and to better inform fleets the European Commission has developed VECTO, a simulation tool that determines heavy vehicle CO2 emissions and fuel consumption. Rolling resistance is a key parameter in VECTO calculations.
In order to provide greater transparency when purchasing tyres, Continental offers a CO2 and fuel calculator based upon the VECTO simulation tool. With this calculator, fleet operators can calculate how much emissions and fuel they can save by choosing particular Continental tyres. The interplay of the correct tyre for the intended application, structure, inflation pressure and rolling resistance makes a decisive difference to how much fuel a fleet uses and how much can be saved.