New Ferrari 296 GTB spotted on Michelin tyres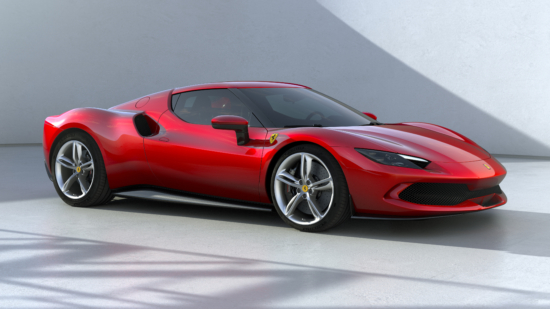 The new Ferrari 296 GTB, launched on 24 June 2021, claims to define what "fun to drive" means. And with the ability to hit 100 km/h in 2.9 seconds in an extremely attractive Ferrari package, you can see their point. But what tyres are transmitting all this acceleration and handling to the road?
As you would expect with a new Ferarri, the new 296 GTB features a number of innovations. For example, it is the first ever Ferrari with a rear-wheel drive-only PHEV (Plug-in Hybrid Electric Vehicle) architecture in which the ICE is integrated with a rear-mounted electric motor producing up to 122 kW (167 cv) derived from the Formula 1 application from which it also inherits the MGU-K (Motor Generator Unit, Kinetic) moniker. But let's focus on the ones most directly associated with the tyres – tyres, brakes and traction control.
In addition to electric traction control and smart energy recovery technology that comes thanks to the new brake-by-wire unit, which guarantees hydraulic and electric blending in all operating modes (including ABS), another traction control and distribution solution making its world premiere on the 296 GTB is the brand-new 'ABS evo'. According to Ferrari, the new ABS control module, which is integrated with the new 6w-CDS sensor, allows the grip limits of the rear tyres to be pushed still further, makes for greater repeatability of stopping distances and thus improving performance when turning into corners.
Ferrari hasn't officially released details of which tyre manufacturer is supplying its original equipment tyres. However, Ferrari does specify a 245/35 ZR 20 J9.0 fitment on the front and a 305/35 ZR 20 J11.0 on the rear. And what is clear from the promotional photography is that Michelin tyres are fitted to the launch model. Specifically the tyres appear to be the Michelin Pilot Sport 4S model.