Derail uneven tyre wear: Nokian Ground Kare Semi-Slick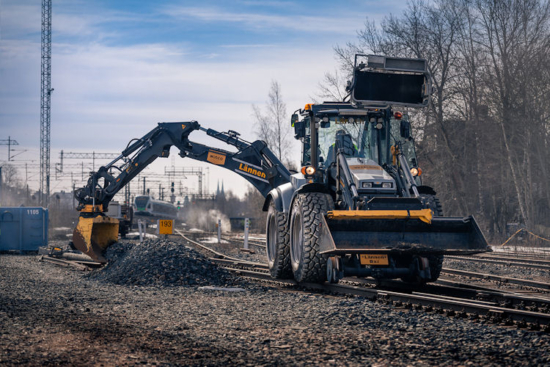 Railways are typically best suited to vehicles with metal wheels, and a backhoe is thus not on home turf in such an environment. It requires a tyre able to cope with driving over thin metal rails, something which can cause uneven wear and shorten tyre life. Nokian Tyres says it has been perfecting a specific tyre for railway use for several years and is now introducing the Nokian Ground Kare Semi-Slick. With this new tyre, the manufacturer says it "solves many problems that were previously typical when using a backhoe loader on railroads."
The Ground Kare Semi-Slick has its origins in the original Ground Kare, an all-round tyre for wheeled excavators and backhoe loaders working on soft surfaces that Nokian Tyres released in 2019. At the time, the tyre maker also brought out a variant optimised for railway work. It has developed the concept further since then, resulting in the new Nokian Ground Kare Semi-Slick.
"When a backhoe loader is driven on rails, the tyre shoulders that run on metal tend to wear out quickly," comments Kimmo Kekki, product manager at Nokian Tyres. "The Nokian Ground Kare Semi-Slick tyre variant is designed with this particular use in mind. We have managed to even out the tyre wear, improving the service life significantly."
Slick section for longevity
The Nokian Ground Kare Semi-Slick differs in appearance from its all-round sibling thanks to the slick section that covers around one third of the tyre's tread. The remainder of the tread shares the same block pattern found on the standard Nokian Ground Kare.
"The patterned part of the tyre still works well on soft soil and road transports," says Kekki. "But the slick part with a thick solid rubber shoulder really takes the grinding of steel under a heavy machine, making sure the tyre won't wear out prematurely."
Nokian Tyres states that user feedback verifies the tyre's durability and shares one such example, from Norwegian construction manager Nils Arne Mikkelsen: "After nearly 1,300 hours of use, the semi-slick area has still no signs of wear. The tyres give a very good overall impression."
Steady & stable
A steel belt under the tread provides Nokian Ground Kare tyres with added protection against cuts and cracks. Nokian Tyres developed the tyre's casing with good shock-absorbing properties in mind. Kimmo Kekki notes that tyre stability is essential in all forms of excavating and loading work. "Swinging makes the accurate control of the bucket more difficult and less effective."
The Nokian Ground Kare Semi-Slick also has one of the highest load-bearing capacities in the market. "Backhoe loaders are getting bigger and heavier," says Kekki. "Also, many special jobs require heavy work attachments that require stable foundation from tyres."
Comfortable on the road
Even highly specialised tyres should also be comfortable on the road, and Nokian Tyres believes the Ground Kare Semi-Slick "really shines" in this respect. "Today, you must keep up with the traffic speed," says Kekki. "The Nokian Ground Kare Semi-Slick tyre has bigger tread blocks in the centre that allow a fast, steady ride." Furthermore, the same shock-absorbing structure that provides stability also reduces vibration when travelling on the road.
"Nokian Tyres creates special tyres for special needs," concludes Kimmo Kekki. "The Nokian Ground Kare Semi-Slick tyre is a good example of our out-of-the-box thinking that results in a new kind of solution to a known problem. The improved stability, load-bearing capacity and service life will make railway work more efficient."