Grupo Andrés begins construction of robotised tyre warehouse and headquarters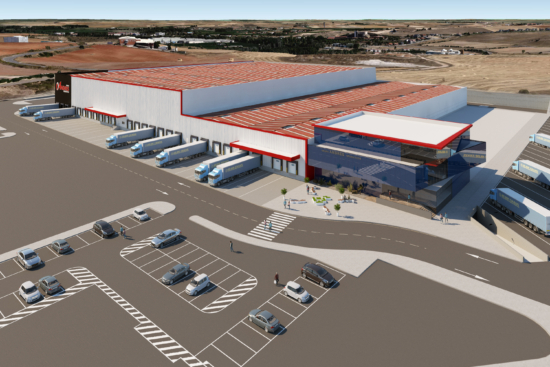 At the start of 2021 Grupo Andrés, started work on the construction its new headquarters. According to the company the new facilities will result in "a significant improvement in distribution" due to the "robotization of the logistics process and a notable streamlining of work and the flow of orders".
The new Grupo Andrés Headquarters will be located in the Cetramesa Freight Transport Center, within the Salamanca Zaldesa Logistics Platform and is described as "a smart and sustainable project". The new building features a 16-metre-high macro warehouse with a surface area of 25,000 m2, with a capacity for more than 650,000 tyres and 25 loading bays. The offices provide room for 250 employees and 3,000 m2 of working space. The personnel-orientated part of the office will house "meeting rooms, training rooms, dining room, gym, technology area, corporate area, offices, customer service centre" and innovation space.
Such is the organisation of the new facility that vehicles depart every hour within a maximum period of 12-24 hours, guaranteeing tyre deliveries to customers. Indeed, more than 30,000 tyres enter and leave Grupo Andrés's warehouses every day. Annually, Neumáticos Andrés distributes 2.5 million tyres from across more than 70 brands.
At the moment, the company has 45,000 m2 of warehouses between Salamanca, Madrid and Barcelona, with more than 700,000 tyres in stock as well as the support of 13 'cross docking' platforms distributed throughout the Peninsula.
The construction of this new headquarters is another milestone in the trajectory of Grupo Andrés, which describes itself as "a distribution leader in Spain and Portugal", but the company is also an exporter of tyres from all vehicle ranges and segments, to professional workshops in more than 30 countries.
The challenge that the company assumes with the new headquarters will not only mean a great logistical advance due to its 4.0 technology endowment, but also due to the functionality of the architectural design with high quality standards in terms of environmental respect, with solar energy generation and the appropriate integration respect for their environment. The Salamanca Zaldesa Logistics Platform, where the new Neumáticos Andrés facility will be located, is also currently in the development phase with the construction of an Intermodal Platform that will function as a Dry Port. This multi-modal functionality will enable the company to transport goods by road, rail and with the potential to capture freight flows between Portugal, Spain and northern Europe.