Galaxy HTSR 400 now available in 3 compound versions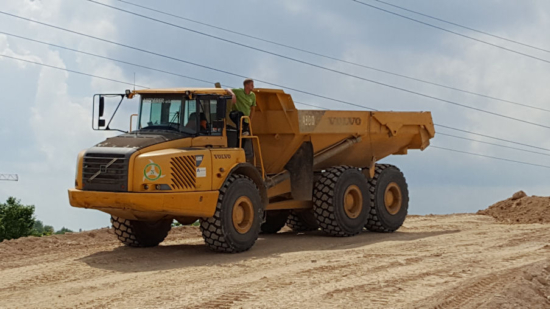 The 2019-launched Galaxy HTSR 400 (E-4/L-4) range of radial OTR tyres for mining operations is now available in two new compound variants – cut resistant and heat resistant. Depending on individual operational demands, customers can now choose between standard, cut or heat resistant compounds in each of the three available sizes, 23.5R25, 26.5R25 and 29.5R25.
Designed for articulated dump trucks and wheel loaders operating with heavy loads in extreme working environments, the Galaxy HTSR 400 tyre range features a robust all-steel radial construction as well as a special belt and a sidewall protector. Yokohama Off-Highway Tires gave the HTSR 400 a deep tread pattern, the open channel tread design and the optimum lug to void ratio in order to "ensure excellent traction, enhanced self-cleaning characteristics and a long tyre life."
3 compounds, 9 SKUs
Yokohama OHT developed the heat resistant compound for high-speed long-haul applications, which require the capability to operate with heavy loads over longer distances and longer operating hours, avoiding the overheating of the tyres.
Customers can equally opt for superior cut and chip protection needed for uneven, sharp-edged and aggressive terrains like abrasive rock quarries with a permanently high risk of stone cuts that often characterize working environments of wheel loaders (L-4). Moreover, the cut-resistant compound ensures low tyre wear, greater durability and longer tire life.
The standard compound version of the tyre is an optimised solution between the cut and heat resistant versions and can equally operate in all working conditions. Whatever the circumstances – the different variants of the HTSR 400 deliver the respective optimum performance.
"By adding the two new variants 'cut resistant' and 'heat resistant to the HTSR 400 tyre range, we make sure that owners and operators of heavy-duty machines on construction sites, in mining operations and comparable working environments can make the best choice and get the best performance – application-specific and customised to their individual needs – and with minimum downtime, says Pravin Job, head of sales, Western Europe for the Galaxy brand.