Kleber brings IF technology to Topker range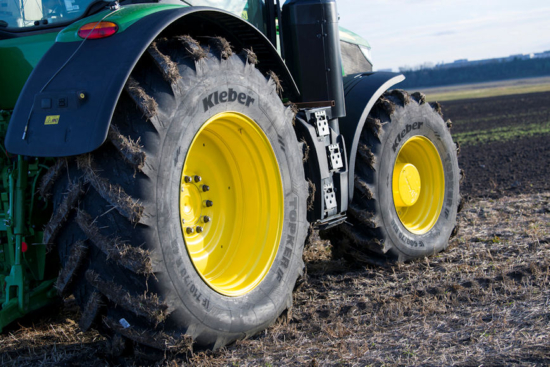 Kleber has launched a new generation of its Topker agricultural tyre range, featuring IF technology for the first time. The new line-up consists of five front and six rear tyres; four key sizes – IF 710/70 R42, IF 600/70 R30, IF 650/85 R38 and IF 800/70 R38 – are now available, with the remaining dimensions to be released throughout 2021. Topker IF tyres are produced at Michelin Group plants in Troyes, France and Valladolid, Spain.
"The Kleber Topker IF is a solution tailored to meet farmers' needs at a time when modern day farm machinery is getting bigger and heavier," comments Gordon Brookes, Kleber's customer engineering support manager. "Being able to lower tyre inflation pressures means the impact on the ground is far less, reducing soil compaction and helping to improve yields.
"We are also extending the range with four additional sizes to better equip both the front and rear axles of higher horsepower tractors," adds Brooks.
The Kleber Topker IF benefits from a new tread pattern to maximise the tyre's contact patch with the ground. The lug spacing ensures maximum grip, providing up to 15 per cent more traction than the standard Kleber Topker tyre. Overlapping lugs help guarantee a smooth ride on the road and are strengthened to improve tread life and stability, while the inter-lug design improves the tyres' self-cleaning qualities.
The new tyres are designed for all-round use, meaning farmers and contractors can take advantage of the benefits they offer regardless of whether they run small crop farms or large-scale mixed operations.
The full Kleber agricultural line-up includes the Traker, Fitker and Gripker for tractors rated 80 – 200hp, and the Topker and Topker IF for heavier farm work with higher horsepower machines. All are available across the Michelin Exelagri dealer network in the UK and Ireland.