USA retains duties on PLT tyres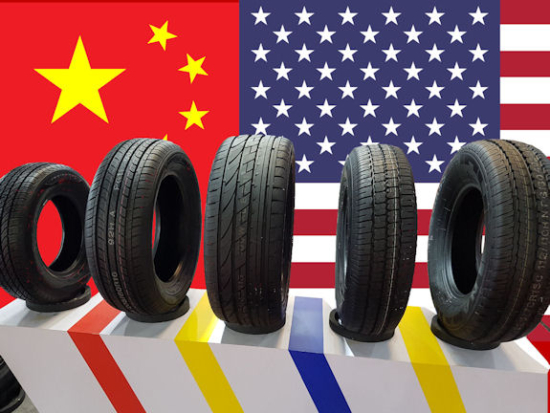 The USA will continue to apply anti-dumping and countervailing duties to passenger vehicle and light truck (PLT) tyres from China. The U.S. International Trade Commission (USITC) decided against ending the charging of duties, which have applied to these products since 2015, after determining that doing so would "likely to lead to continuation or recurrence of material injury within a reasonably foreseeable time." Unsurprisingly, the United Steelworkers union applauds the decision.
The USITC announced its determination on Tuesday following a five-year sunset review process, as required under US law. The review concerning PLT tyres from China commenced on 1 July 2020, with the USITC voting on 5 October to conduct an expedited review. A report containing the USITC's views and information presented during the reviews, titled 'Passenger Vehicle and Light Truck Tires from China (Inv. Nos. 701-TA-522 and 731-TA-1258 (Review), USITC Publication 5158, February 2021)' will be made public by 26 February.
USW: Protection against unfair trade
The United Steelworkers (USW) union filed the original anti-dumping and countervailing duty petitions on Chinese PLT tyres in 2014. Upon hearing the USITC's decision this week, the union representing thousands of US-based tyre industry workers hailed it as "essential to protecting US workers from the devastating effects of unfair trade."
"For too long, domestic tyre makers have been forced to grapple Chinese efforts to undercut their products and undermine their jobs," stated Tom Conway, USW international president. "It's essential that we continue holding bad actors to account, even as we take strategic, long-term steps to fix our broken trade system."
"As our country seeks to regain its economic footing in the wake of the deadly COVID-19 pandemic, it's more important now than ever that American companies and workers can compete on a level playing field," added Kevin Johnsen, who chairs the USW's Rubber and Plastics Industry Conference. "These orders will help ensure they can focus on what they do best: making tyres."
The USW is the largest North American union in tyre manufacturing, representing workers at the following PLT tyre plants in the USA: Cooper Tire plants in Findlay, Ohio and Texarkana, Arkansas; Goodyear plants in Fayetteville, North Carolina, and Topeka, Kansas; Michelin plants in Fort Wayne, Indiana, and Tuscaloosa, Alabama; the Sumitomo plant in Tonawanda, New York; and the Yokohama plant in Salem, Virginia.
Massive drop in imports
The US anti-dumping duties on these products range from 14.35 per cent to 87.99 per cent, and the countervailing duties range from 20.73 per cent to 100.77 per cent. Since their introduction, China's exports of PLT tyres to the US have dropped sharply. China exported 60.5 million of these tyres in 2014; according to Chinese trade publication Tirechina.net, the USA imported only 905,400 sets of tyres in the first half of 2020.