Virtual launch for Michelin's most eco tyre ever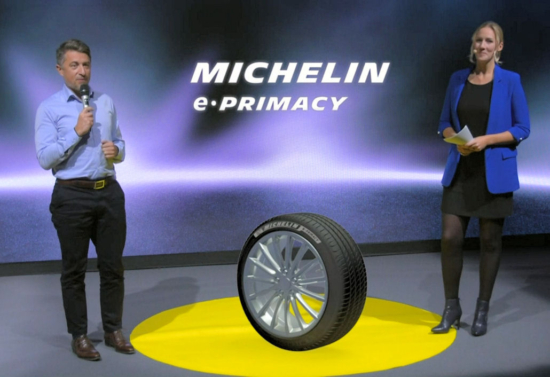 The corona crisis may have compelled Michelin to present its latest tyre range via an online launch, but a low-carbon virtual format was also a good fit for the tyre's environmental ambitions. For the Michelin e.Primacy is not only a successor to the Energy Saver; it also represents a new approach to tyre development at Michelin and is also the first tyre to be released with an Environmental Product Declaration.
We'll explore these aspects of the e.Primacy at a later date, but first here are the key points:
Rolling resistance – The e.Primacy has an EU tyre label 'A' rating for energy efficiency and 'B' for wet grip, and Michelin points out that a 'B' or higher rating for wet braking is, when paired with an 'A' rating for energy efficiency, a result achieved by less than one per cent of all summer car tyres sold in Europe. It adds that the e.Primacy has the lowest rolling resistance in its class and can save drivers around 0.21 litres of fuel per 100 kilometres. Electric car drivers can reckon with up to seven per cent extra range.
Safety – As mentioned, the e.Primacy has a 'B' label rating for wet grip, but the tyre isn't just grippy when new. Michelin has revisited its Long Lasting Performance concept, or 'performance made to last'. Based upon test results, the tyre maker is confident that even after the equivalent of 30,000 kilometres on the road, e.Primacy tyres can pass the European R117 standard wet braking approval test for new tyres.
Longevity – Michelin used its Primacy 4 as the benchmark when looking at mileage and whole-life performance, and says the e.Primacy matches this benchmark. It maintains a "high level of performance from the first to the last kilometre.
Michelin will offer the e.Primacy from spring 2021 in 56 dimensions for 15- to 20-inch rim diameters, a portfolio that covers most key combustion and electric vehicle sizes outside the sports segment. The new tyre will be slightly more expensive than the Primacy 4, however the tyre maker stresses that this extra cost will be "more than compensated for" by fuel savings.