Conti: European, US e-commerce accounts for 77 billion km per annum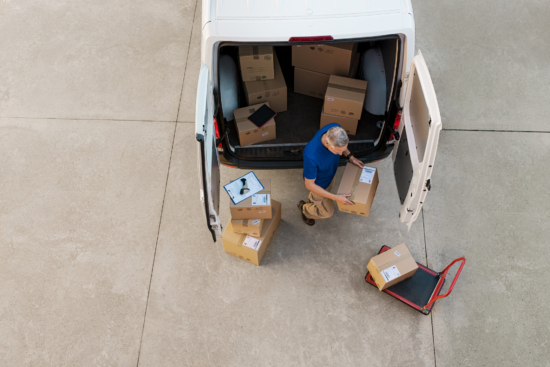 Why tyre manufacturers should be optimistic about the future of the van segment in mature markets
September's new van registrations represented a bright spot in a dire year for new vehicles in Europe. While European Union van registrations have declined 22.8 per cent over the course of 2020, September figures registered double-digit growth. In the UK, the figures are even more polarised, with the light commercial vehicle market down 27.4 per cent for the first three quarters, September growth was nearly the opposite, over 25 per cent up. Though it should also be noted that the UK figures reflect a weak month in September 2019. While the new vehicle picture is clearly complex, the demand for new vans to replace less efficient older models, and to expand fleets, is present even amid this pandemic year. And with the demand – even legislative requirement – to downgrade emissions, OE tyre suppliers will be required to develop increasingly more efficient tyre solutions. And there are more reasons for tyre suppliers to the replacement markets in mature North American and European markets to feel optimistic about their prospects, both for the reasons laid out in the previous analysis of the market, and thanks to some startling statistics relating to the growth in e-commerce laid out by Continental.
The growing popularity of e-commerce can be of no surprise at this stage in its development. Fuelled primarily by convenience, ordering online is an increasingly favoured option over traveling to city centres or dedicated retail sites. And this situation has been magnified by the coronavirus pandemic, as more choose or are compelled to stay home rather than visit bricks and mortar stores in person. Conti points out that revenues posted by online retailers have been rising for many years – and the pandemic is certainly providing them with another significant boost. According to figures from The Office of National Statistics, UK online sales in August were 38.9 per cent higher than pre-pandemic levels, recorded in February 2020.
For countries engaged in greener legislative agendas, such as those seen in much of Europe, this boom in orders comes with an environmental cost, as transport service providers cover increased distances. Conti states that deliveries in Europe and the USA each year mean around 60 billion kilometres – and close to 17 billion kilometres just carrying returns. Conti illustrates the latter figure as being equal to "73 journeys between Earth and Mars." This also means around 1.5 billion kilograms of CO2 is emitted simply in the process of returning goods.
Conti explains that the EU is understandably placing a burden on truck manufacturers to reduce CO2. By 2025 all truck makers must cut the CO2 emissions of their heavy-duty commercial vehicles by 15 per cent compared to the 2019 average. By 2030 the reduction needs to be 30 per cent. And tyres can, by reducing rolling resistance, play a significant role in achieving these ambitious targets.
Home delivery operations necessitate the use of light commercial vehicles – vans – in order to carry out what is referred to as the last-mile deliveries to doorsteps. So just as the heavy commercial vehicle tyre supplier must support the mission to reduce emissions, van tyre suppliers must meet a range of requirements from the segment to support this increased emphasis on van-based goods transportation.
On top of perennial needs, such as robust construction and kerb impact protection, several trends are already apparent for the van tyre segment. First is the extended mobility offered by all-season tyres. In temperate climates like the UK's, these products ensure that van drivers can be out on the roads in all conditions to make tight delivery deadlines whatever the weather. They also prevent the downtime and extra storage expense associated with seasonal tyre changes. The GfK statistics quoted in our previous article show that the demand for fitments with larger dimensions are growing too, illustrating the demand for improved driver comfort and road performance. With the growth in electric vans (see textbox), there is also a need to consider the characteristics of these vehicles when supplying tyres to the segment. These including lower noise due to their relatively silent running properties, lower rolling resistance to maximise battery range, and the ability to handle greater torque.