Yokohama launching all-season van tyre in Europe and Russia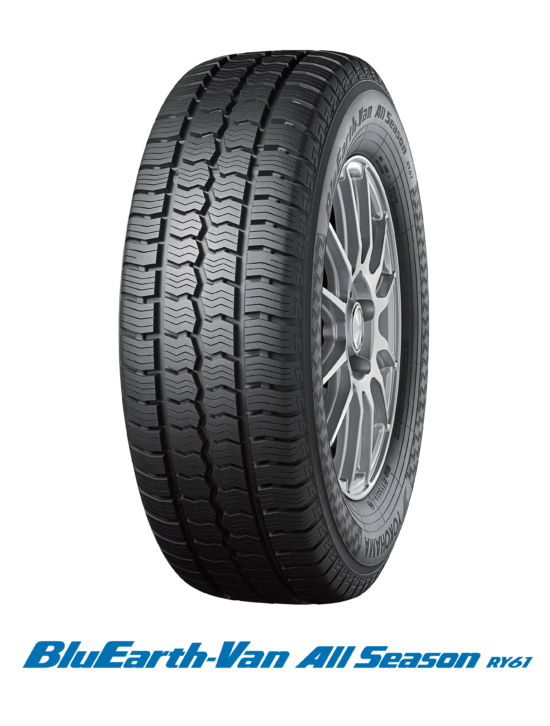 Yokohama has announced that it will launch a new all-season tyre for European and Russian vans, the BluEarth-Van All Season RY61, in spring 2021. The tyre will be available in 23 sizes, from 225/55R17C 104/102H to 195/70R15C 104/102T. The manufacturer joins the trend of the world's largest tyre manufacturers introducing new products in the segment, an intersection of two growth markets in Europe.
Yokohama says that it sought to develop a tyre that would meet the rapidly rising demand for products that increase user convenience and eliminate the need to change tyres every season. It says the BluEarth-Van All Season RY61 provides the wear resistance and durability demanded of van tyres while also contributing "powerful and comfortable driving performance" in various road conditions. The new tyres have received European certification as safe winter tyres and will bear the Three Peak Mountain Snowflake (3PMSF) marking on their sidewalls.
The new tyre's tread pattern features Yokohama's "Triple WD Groove". This combines a zigzag groove in the centre of the tread to achieve stable grip on snow. Two straight grooves on each side deliver superior water drainage.
"Snow-Biting Sipes" have been applied to the tyre's shoulder to enhance the edging effect. In addition, large blocks placed in the tyre's centre and shoulders ensure a wide ground contact area, enhancing handling performance and wear resistance. The BluEarth-Van All Season RY61's compound is a blend of three different polymers, enhancing wear resistance and durability. In addition, the compound's use of a large amount of silica contributes to an optimal balance between wet performance and fuel efficiency. Meanwhile, the sidewall features an innovative "Anti-Cracking Serration" design that prevents sidewall cracking.
Yokohama has been strengthening its line-up of all-season tyres, due to growing interest both in its domestic Japanese market and globally as an alternative to seasonal tyre fitments. It launched the BluEarth-4S AW21 in 2018 as its all-season passenger car tyre.