Biden bounce helps Japanese tyremaker share prices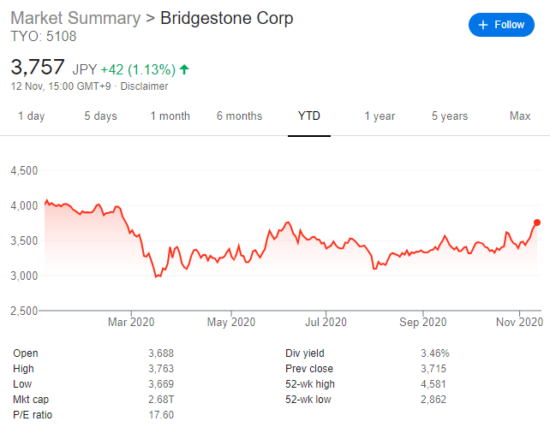 Shares in Japanese firms hit a 30-year high after Joe Biden was named as the president-elect of the US in a phenomenon being called the "Biden bounce". Tokyo's Nikkei index rose 2.6 per cent when the market opened on 9 November. It closed up 2.1 per cent at a level not seen since 1991.
Specifically, Bridgestone, Sumitomo Rubber Industries, Yokohama and Toyo Tyres all saw significant upticks in the week following the election news. This generally resulted in a three to six month high, with Bridgestone and Yokohama amongst those fairing best (see charts).
Commenting on the news, several media sources pointed out that – in addition to US national media calling the election in favour of the Democrat party candidate, Joe Biden – the apparent discovery of a Covid-19 vacine and Japan's recent boom in car manufacturing from brands including Toyota were also behind the strong tyre industry share prices.
Prior to the election, some financial analysts suggested that a Biden victory would be good news for the automotive industry in general as well as automotive suppliers.