Michelin accused of Indonesia natural rubber deforestation "cover-up"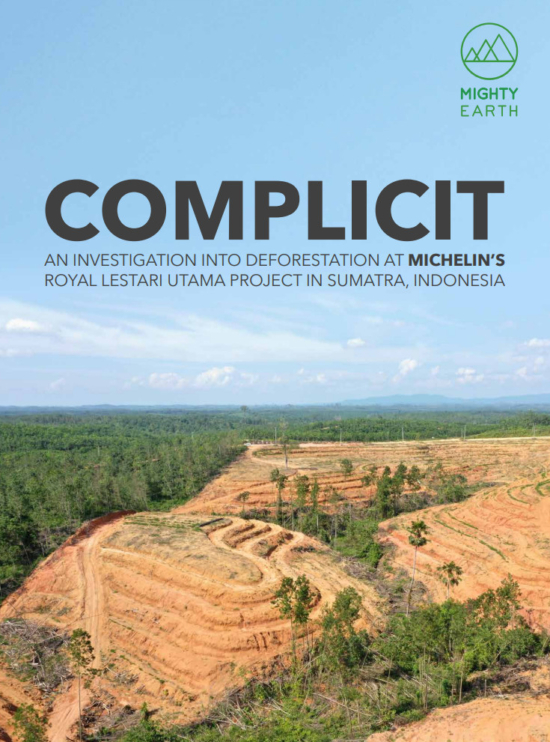 Campaign group Mighty Earth has published a report alleging that Michelin "covered up industrial-scale deforestation of over 2,500 hectares of rainforest in the run-up to the launch of its flagship 'eco-friendly' sustainable natural rubber joint venture project in Sumatra, Indonesia". The project is currently seeking an additional $120 million in investment from green financiers. Michelin's joint-venture Indonesia natural rubber project Royal Lestari Utama (RLU) robustly denied the allegations.
According to the report, some 2,590 ha of rainforest was industrially deforested by subsidiaries of Michelin's Indonesian joint venture partner in a 33-month period to January 2015 to make way for natural rubber plantations in the flagship rubber, wildlife and conservation-focused Royal Lestari Utama (RLU) Project in Jambi, Sumatra. Of this total, Mighty Earth found that 1,298 ha of rainforest was industrially deforested in a Wildlife Conservation Area, and which is now planted with thousands of rubber trees under the RLU Project. The RLU Project has since gone on to attract financing from Asia's first $95 million corporate sustainability 'Green bond', as well as public funds from the Norwegian, UK and US governments, and is imminently slated to receive further financing from a second $120 million green bond.
"This is a major deforestation scandal," said report author Alex Wijeratna, Campaign Director at Mighty Earth. "Our evidence shows thousands of hectares of wildlife-rich rainforests were industrially deforested in Jambi in the run-up to the agreement of the RLU Project in late 2014. Michelin knew about this terrible forest destruction, they didn't do enough to stop it, and instead chose to provide green cover to the project in order to attract green bond investors that have since sunk millions of dollars into the scheme."
Michelin publicly announced its 88,000-hectare joint venture RLU Project in May 2015, with an Indonesian company later officially described as 'within the Barito Pacific Group'. At the time, Michelin said the Jambi concession area was "…ravaged by uncontrolled deforestation", blaming outside culprits such as encroachers, migrants and organized criminal groups.
In contrast, Mighty Earth's report alleges that it was Michelin's joint venture partner itself – RLU's subsidiary on the ground known as PT Lestari Asri Jaya (LAJ) – that perpetrated much of this destruction through industrial forest clearance, particularly within a block of the concession known as LAJ 4. The new publication, "Complicit: An Investigation into Deforestation at Michelin's Royal Lestari Utama Project in Sumatra, Indonesia" alleges that, in April 2012, there were 3,966 hectares of intact forest covering almost the entire case study area within LAJ 4. By the time the RLU joint venture project began in January 2015, just 138 hectares of that forest remained. Analysis by Mighty Earth of high-resolution satellite images points to large-scale rubber planting replacing this natural forest.
According to the campaign group, Mighty Earth has been in talks with Michelin and RLU in Indonesia about its research in Jambi since September 2019, and has requested several key social and environmental due diligence documents and reports conducted prior to the project launch to be made publicly available. The information wasn't published, but the campaign group did view a confidential pre-venture assessments and says it confirms that Michelin was told what was happening on the ground in Jambi at the time.
"Mighty Earth has seen a confidential report commissioned by Michelin that shows the company knew deforestation in the PT LAJ concessions was partly the result of land clearing carried out by PT LAJ itself," said Wijeratna, addin: "The report includes geo-tagged photos of LAJ bulldozers clearing land and forests next to the Bukit Tigapuluh National Park, but it's unknown if Michelin ever shared this information with donors, funders, or green bond investors.
"Public and private investors in these new so-called 'green bonds' or 'sustainability bonds' have so far pumped nearly $100 million into the RLU Project in Indonesia in good faith, and will soon be asked for $120 million more. We're calling for an independent investigation to get to the bottom of the murky business during the run-up to this so-called green rubber project, and believe the second 'green bond' offering shouldn't go ahead until all the facts about what happened in Jambi are in the public domain."
Local communities also complained of land ownership questions. "Farmers reported land tenure conflicts with RLU's local subsidiary on the ground," said Fenna Otten from the University of Göttingen's department of Human Geography, who conducted field research in nearby Muara Sekalo village in 2017. "Villagers said they had no choice but to leave their land to the company. They were pushed off and felt powerless. Michelin shouldn't gain green bond finance and public praise for this sham of a sustainable development project."
Cover-up allegations "without basis in fact"
Tyres & Accessories asked Michelin to respond to the report and was directed to an RLU statement robustly denying the allegations:
"ME's allegations around illegal deforestation in the Jambi concessions held by Barito Pacific Group subsidiaries PT Lestari Asri Jaya (LAJ) and PT Wanamukti Wisesa (WMW) between 2012 and 2014, prior to the establishment of RLU, a JV between Michelin Group and Barito Pacific Group, are without basis in fact."
Rather, RLU specifically argues that LAJ and WMW operated as licensed industrial forest (HTI) companies compliant with "all prevailing Indonesian laws and with proper forestry permitting". Specifically, the companies' compliance includes the formulation of its Environmental Impact Assessment (AMDAL) approved by the Government of the Republic of Indonesia, RKU & RKT (annual and 10-year work plan) approved by the Government of the Republic of Indonesia, Minister of Forestry and Environment of Republic of Indonesia Regulation No. P.62/MENLHK/SETJEN/KUM.1/10/2019 on Development of Industrial Forestry (HTI). Furthermore, RLU argues that areas in question were "already considered degraded, logged over or shrub lands when these licences were initially granted".
RLU committed to "rehabilitate and restore the land"
Upon RLU's establishment as a JV in 2015 Barito Pacific Group and Michelin Group committed to "rehabilitate and restore the land" in order to produce "sustainable natural rubber" in the "degraded" area. At the same time, LAJ and WMW undertook to ensure that the rubber industrial forest concessions would provide jobs and underpin other social infrastructure within the ±70,000-hectare Jambi concessions, to support livelihoods and communities. Since the establishment of the JV, Barito Pacific Group, RLU and Michelin Group have all issued their own No Deforestation, No Peatland Development, No Burning, and No Exploitation (NDPE) policies.
Beyond direct land conservation and restoration, LAJ and WMW has delineated a sustainability strategy to generate positive impact for more than 50,000 people living in and around the concessions, guided by safeguards and standards such as the IFC Performance Standards towards which the company is working. Companies offers expanded livelihood opportunities, access to markets as well as improved health and education to local communities through our Community Partnership Program (CPP).
RLU reports that it has also developed an Indigenous Peoples (IP) Engagement Framework and agreement with the Orang Rimba Group, to help support and sustain livelihoods. RLU cooperates with the regional government to facilitate access to national identity cards (KTP) for Orang Rimba to be able to use public services, such as health care facilities and education. The company has also developed a grievance mechanism process and guidelines for managing stakeholder grievances.
In conclusion, RLU said it is "proud of this project and committed to achieving long-term progress. No matter its difficulties, we believe the greatest risk lies in inaction – in not stepping in to try to stem deforestation and biodiversity loss in the landscape and certainly in not acting to improve rural livelihoods in Jambi."