Hankook producing Alphatread retreads in the DACH market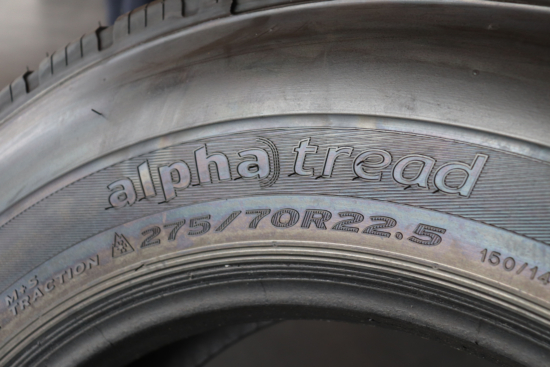 Hankook's story is undoubtedly one of extraordinary growth. The South Korean-based manufacturer inaugurated its car tyre plant in Hungary in 2007, which currently produces around 19 million tyres annually. In parallel, the company has succeeded in becoming an OE supplier to nearly all European premium manufacturers. The same applies to truck tyres, albeit to a lesser extent. Even if Hankook only postponed plans to expand its Hungarian factory to include truck tyre production until the end of last year due to economic uncertainties, market observers can see that the tyremaker holds double-digit truck tyre market shares in in many European. For Hankook, this isn't the end of the success story, but rather the introduction to even more extensive growth. Moving forward, Hankook was respond more fully to the increasingly demanding needs of European truck tyre replacement market customers.
"We now want to redefine our position in the truck tyre market," Manfred Zoni, who, as sales director truck, is responsible for the DACH market (Germany, Austria and Switzerland). In the past few years, careful investments had already left a significant footprint on the truck tyre market – something else that also applies across Europe. Indeed, Hankook wants the aforementioned shift towards being a system supplier accomplished on this basis, Zoni said in an interview with Tyres & Accessories. Such a change should be supported by a significant expansion of the offer. In addition to its Hankook new tyre products, the manufacturer also wants to offer a comprehensive range of hot retreaded Alphatread tyres in the future, supplemented by comprehensive solutions that are useful and necessary for fleet operators. When this is in place, the company can move towards utilising RFID chips as well TPMS sensors inside tyres (as part of something called "Tyre Watch") in order to sell kilometre-based contracts direct to fleets. With this in place, alone with live data monitoring systems as well as additional services – one of Europe's functioning Breakdown service is usually the key to success in the truck fleet business – the change to a system supplier will be complete.
All of this is taking place gradually, Zoni promises. Hankook wants to begin, however, with the expansion of its Alphatread hot retread product line, meaning Hankook's own four-life concept will be introduced into the Central Europe market. For the time being, the sales director truck is just referring to DACH markets where Hankook, of course, operates in Hammelburg, northern Bavaria after the acquisition of Reifen Müller. As Manfred Zoni says: "Our retreading factory", where Hankook's Alphatread hot retread is manufactured for the Central European market.
The manufacturer in Europe has not only been active in retreading since the takeover of Reifen Müller two years ago. Hankook established the first joint venture partnership in the UK in 2013. Today, having changed its production partner, Hankook Alphatreads are made in Great Britain by Vacu-Lug. But Hankook also maintains corresponding partnerships in other important European markets: with Grupo Soledad in Spain, with BR Pneumatici in Italy (BRP) and, since last year, also with Soreval in France, albeit only to a small extent. Hankook presents these partnerships in parallel with the Reifen Müller operation. There are currently no plans to abandon the existing partnerships and replace them with a single central plant. However, Germany's neighboring countries are supposed to be supplied from Hammelburg. And in any case, Hankook is about immediately replace existing Reifen Müller-retreading business with Alphatread business. Rather, Manfred Zoni emphasizes that it is always about addition, not exchange. Alphatread is therefore not sold by Reifen Müller's sales team, but rather by Hankook's sales team.
It is well known that Reifen Müller Runderneuerungswerk, is one of the largest retreaders in Europe with a production capacity of around 95,000 retreaded truck tyres a year. Around three quarters of this capacity relates to cold retreading, with Reifen Müller working closely with Marangoni to this end. Within this production Marangoni Ringtread share represents about three-quarters again, which in sum corresponds to more than half of Reifen Müller's production. In addition to Marangoni, Reifen Müller also works closely with Kraiburg Austria as a material supplier. Both supply materials for Reifen-Müller hot retreading. In the future, the material will come from the Hankook's Hungary new tyre factory, as soon as new truck tyres are also manufactured there.
"We have always been retreading on the basis of quality," stresses to Uwe Müller, managing director of Reifen Müller GmbH & Co. Runderneuerungswerk KG whose main brand roughly translates at "RM-quality renewal". The production capacities of Reifen Müller are not expected to change due to the closure of retreading in Hattingen (near Essen), which Pneumobil took over in 2017, since a large part of the production equipment was transferred to the main plant in Hammelburg. In Hattingen, the lease expires at the end of this year, making a decision on the future of retreading necessary.
Reifen Müller produced an Alphatread hot retreaded tyre for the first time last autumn – a bus tyre with a reinforced sidewall. The niche-orientated AU03+ 275/70 R22.5 city bus tyre certainly does not serve a mass market, but it is of great importance as a yardstick since the tyre is used in passenger transport, where by definition the highest quality standards apply, emphasizes Manfred Zoni. In this respect, the introduction of the first Alphatread hot retread from Reifen-Müller could also be seen as a test run for the further expansion of the product range. From here Alphatread will be significantly expanded with additional lines, including drive axle profiles trailer fitments, as well as profiles for the long-distance traffic as well as on-off road products. The first additional Alphatread treads are expected to come onto the market from next year at the latest. Of course, as with all Hankook hot retreads, the Alphatread AU03+ is produced exclusively on Hankook casings. A corresponding Alphatread cold retread offer is not planned.
It is obvious that Hankook is not under pressure in terms of integrating Reifen Müller Runderneuerungswerk into its own transition to a system provider . It is a well-functioning company without adjustment pressures on top: "for me best retreaders Europe", Manfred Zoni says, praising the business. Accordingly, the conceptual development of one's own range of products and services can also be made flexible in terms of time and in line with market needs, decisions can be made at the right time rather than at the wrong time. New tyre and retreading market conditions have made it difficult to make appropriate decisions and certainly not easier. According to Zoni, the Reifen Müller Runderneuerungswerk acquisition includes 45 branches Reifen Müller as well as the businesses' wholesale operation (also one of the largest in Europe) – important dimensions that demonstrate that the acquistion was not simply about retreading alone.
Hankook is also considering the role of new tyres in its conceptual development. The Hankook brand has now arrived in Tier 1 of the European market for both passenger and truck tyres, according to Neu-Isenburg near Frankfurt, where Hankook's European headquarters are located. In line with this premium claim, Alphatread hot retreading is now being introduced comprehensively – especially in Central Europe. Of course, new and retreaded tyres are part of such positioning, as are the solutions mentioned above, which are also about to be introduced soon. Hankook's second brand, Laufenn, which is already out in the car tyre space and is being launched in Europe as a truck tyre, will then also serve as a base for corresponding positioning. Hankook recently introduced the upcoming line-up, but initially only for the British market, where nine patterns are being launched. The manufacturer plans to announce later this year which Laufenn truck tyres will also be introduced in Central Europe and thus on the DACH market. As Manfred Zoni says, Laufen is Hankook's own Tier 2 brand, firmly placed in the quality segment of the market, in order to support the Hankook brand's tier one claim.
Hankook customers in the DACH market and in Central Europe should therefore have a significantly different, significantly expanded range of products and services available in the future – the introduction to even more extensive growth.