First Stop partners with Pilgrim Tyres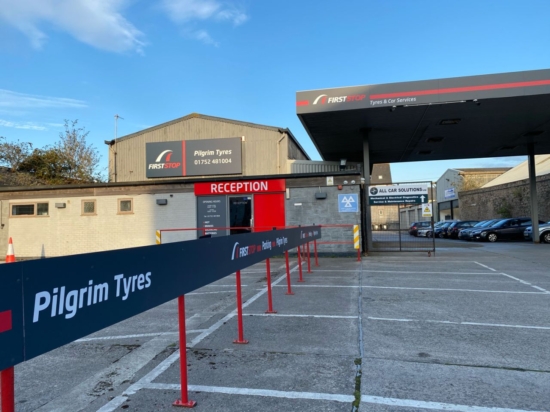 First Stop Tyre & Car Services has confirmed our reports on 14 September that the network has established a franchise partnership with one of the most successful garage depots in Devon, Pilgrim Tyres. Three new jobs are being created in the process. It is First Stop's first partnership with a former HiQ franchise.
Pilgrim Tyres were reportedly swayed by the network's new corporate identity. The branding was cited as a major factor behind the decision to team up, along with a holistic network offering, including links to Bridgestone and Firestone. The First Stop proposition was deemed to be the perfect fit, with access to Training, Health & Safety and HR advice on hand, not to mention "extremely strong supplier deals".
The transition away from HiQ is already complete and First Stop's Marketing Manager Nikki McCluney expressed her delight of an acquisition of such a highly respected depot which is steeped in the local community:
"There is well over 50 years' worth of automotive experience in this depot and their knowledge of the local area is second-to-none, as is their intuitive understanding of what motorists want and require. To have the First Stop signage above the centre is a huge thrill for us and underlines our pledge to expand the network – but only with quality retailers who share our vision to offer customers the very highest levels of convenience, confidence, comfort and care."
Pilgrim Tyres branch manager Craig Lauderdale boasts vast experience in the aftermarket, having worked as branch manager for Parts Alliance for 20 years. Meanwhile the centre has retained many of the existing team with Paul Northcott and Danny Hammond having worked for the previous owner for over 30 years.
The store has operated out of the current premises for around 10 years but has been in Plymouth for over three decades, servicing customers within the area. Lauderdale and the team will now work hard to welcome old customers from the previous business back to the site as well as new business, thanks to innovative sales campaigns and preferential prices on the Bridgestone and Firestone products.
Pilgrim Tyres offers the full range of tyres and car services including MOT's, brakes and batteries and currently boast fleet business in the area with Plymouth Community Homes just one of a number of valued clients.