Siemens to bolster Nizhnekamsk plant logistics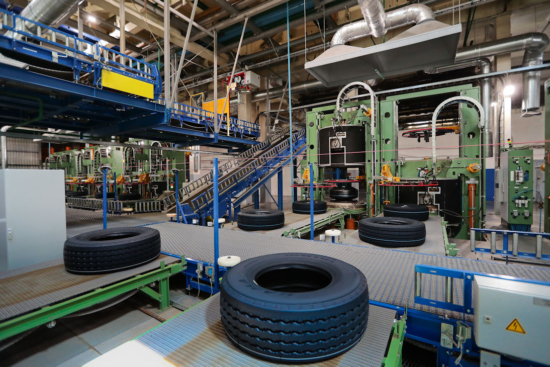 Kama Tyres Tatneft's Nizhnekamsk Truck Tyre Factory has signed an agreement with Siemens to expand the logistics system previously installed within the plant. Siemens is carrying out this work as part of the second phase of an expansion capacity project within the facility.
Tatneft has initiated a major investment project to expand the production of all-steel tyres at the Nizhnekamsk Truck Tyre Factory. The completion of the project's first stage last year increased annual production capacity by 300,000 tyres. The tyre maker is currently implementing the second stage to elevate capacity for these products up to 2.8 million tyres a year.
Siemens AG and its local subsidiary will supply and install the required equipment, with Siemens Russia then providing subsequent support. The logistics system includes a WMS warehouse management system, a transport system, S7-1500 controllers, visualisation systems, motors, frequency converters, distributed peripherals, networking equipment, a robotic painting machine, autonomous robotic transport for moving semi-finished products, automated warehousing facilities for both unvulcanised and finished products as well as an electric suspension road.
The project's main goal is to ensure the timely delivery and storage of raw and finished tyres, taking into account the factory's increased production capacity. Mobile robots will transfer green and vulcanised tyres to each subsequent stage of production, aided by a linear movement gantry-type robot with a conveyor system for transporting pallets with finished products. In combination with the application of multi-stage storage technology with stacker cranes and robots for loading uncured tyres, this will eliminate the operator participation in the process and improve the quality of products, since gantry manipulators provide for a high level of accuracy in performing the operations.
13 years of collaboration
"Our cooperation with Siemens on the implementation of the logistics systems began back in 2007 with the design and implementation of the solid steel cord tyres production with a capacity of 1.2 million pieces per year," comments Tsalik Portnoy, executive director of the Nizhnekamsk Truck Tyre Factory. "A new production facility for the tyre manufacturing business was successfully commissioned in 2009. Our factory has produced more than 8.5 million solid-steel cord tyres since that time, and the available product range has grown from 15 to 105 models. There is no doubt that one of the main fundamentals of the production rhythmic operation is the logistics system. Based on the positive long-term experience of operating the logistics system implemented by Siemens, it was decided to continue the cooperation in expanding the production of the solid-steel cord tyres."
Zhanna Shalygina, director of the Siemens Digital manufacturing department in Russia, adds: "We are very pleased to continue our cooperation with Kama Tyres, the Tatneft Group's tyre business, which is one of the leaders in the tyre manufacturing industry in Russia. It is significant for us that the company has chosen Siemens for the implementation of the project new stage resulting from the high assessment of our efforts during the first stage."