Marangoni introduces Ringtread Blackline ICE202 drive pattern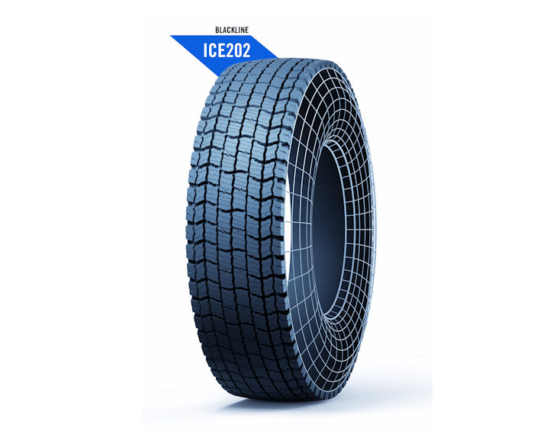 Marangoni's product development cycle didn't stop during the pandemic. Rather, the retreading systems supplier has further developed its Ringtread Blackline winter range. With talk of second waves and clusters around us, whatever happens next with the Coronavirus emergency, the seasons will keep changing and we will soon have colder weather. To this end, Marangoni's Research and Development Centre has kept going despite the adverse circumstances, utilising agile working modes. The company reports that, as a result, it has been able to improve and expand its range, providing customers with greater capacity of supply and "reinforcing the circular economy on a local level where globalization (global supply chains) failed during the pandemic".
Specifically, by continually pursuing the challenge of technological development and striving to anticipate the needs of the tyre retreading market, Marangoni has decided to design and manufacture the Blackline ICE202: a new 3PMSF drive pattern, specially designed for use in severe winter conditions on vehicles operating mainly over long distances.
Winter is a particularly critical time for truck tyres, called on to ensure maximum grip and safety even at low temperatures on demanding surfaces, such as roads covered with snow, at times compacted snow, and ice. According to Marangoni, it is thanks mainly to Ringtread premium products like the new ICE202, that the company has won the favour of users to carry out their usual winter tyre replacement.
The key to success lies in the combination of reliability, high mileage and traction. While Marangoni reports that these are intrinsic characteristics in all retreads based on Marangoni technology and products, it is in the most extreme situations that they perform the best. It is, therefore, in the winter segment that Marangoni retreads maximise their advantages, especially when it comes to the Blackline range.
Blackline is widely recognised as Marangoni's response to the evolution the market has undergone in recent years, where fleets have been demanding retreaded tyres with performances comparable or superior to quality new tyres. Nowadays, after the pandemic outbreak, Blackline is said to be even more the ideal choice for the environmentally-aware fleets looking for smart solutions to benefit from their premium casings.
Besides ecological aspects such as the raw materials re-use and the CO2 emissions reduction, tyre retreading generates added value for the local economy. Furthermore, it represents a short circular supply chain which has proven to be able to keep functioning during the "lockdown", playing a key role to provide the transportation sector with the needed spare tyres.
An additional key to success in the winter segment is the variety of patterns, each one able to meet different and more extreme performance requirements. It is for this reason that Marangoni continues to invest in research on new compounds and the development of ever more efficient designs. That's why the already broad range of Marangoni winter precured rings and tread strips is now bolstered by a new product making its debut on the European market.
Blackline ICE202 meets the demands of extremely competitive and selective markets, thanks to its ability to combine traction and mileage, also in the most extreme conditions typical of Nordic countries where safe driving is essential. The new Blackline ring is, of course, 3PMSF approved for severe winter service, and the "Three Peak Mountain Snowflake" approval symbol is visible on the shoulders as well on the tread itself.
This new-generation Ringtread product is a bi-directional pattern featuring a variable block arrangement, open shoulders and deep 3D siping with interlock technology, providing excellent control on surfaces covered with ice and snow. The wide opening of the shoulders keeps the tread constantly "clean" of any snow and ice, in order to maximise traction. The innovative interlock sipes support tread stability during service, to maximise traction and minimise the heat build-up. The extensive reinforcing bridges on the ribs provide stability on softer ground (snow, mud), resistance to very aggressive road surfaces (ice) and more regular wear.
ICE202 is available for tyres sized 275/70R22.5, 295/80R22.5 and 315/70R22.5. As per all the Blackline range, this ring features a specially developed compound that ensures better rebound at low temperatures and reduced rolling resistance, as well as longer treads rubber life in extreme conditions.
Marangoni describes the Blackline range as "the crown jewel of the Ringtread System, the only retreading process that uses spliceless precured rings that adhere to the casing without tension or deformation of the tread pattern." According to the company, it is thanks to the higher precision and directional stability of the siping and blocks, that excellent traction is ensured even on the most demanding surfaces