Prinx Chengshan: Increased profits despite corona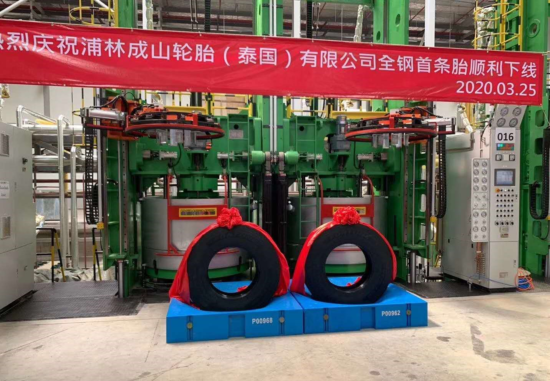 In spite of COVID-19, Prinx Chengshan managed to increase its net profit in the first half of 2020, a feat aided in part by a prompt response to the pandemic. Sales revenue for Prinx Chengshan (Cayman) Holding Limited and its subsidiaries in the six months to 30 June 2020 came to RMB 2,844.0 million (£317.2 million), 1.0 per cent less than in the same period of 2019. Gross profit rose 9.9 per cent year-on-year to RMB 606.3 million (£66.7 million) and net profit increased 1.6 per cent to RMB 265.3 million (£29.2 million).
The company sold 6.26 million tyres during the first half of the year, 3.1 per cent more than in the first six months of 2019. Just under half of these, 3.11 million in total, were semi-steel radial products such as car tyres. Sales of all-steel radials accounted for a further 2.94 million units, and 0.21 million cross-ply tyres were sold. These three product groups respectively accounted for 19.1 per cent, 78.7 per cent and 2.2 per cent of group revenue.
Sales to distributors within China came to RMB 981.4 million (£107.9 million), 34.5 per cent of the total. Sales to international distributors amounted to RMB 855.7 million (£94.1 million or 30.1 per cent of the total. Prinx Chengshan says that when the pandemic went global in March it manoeuvred to increase sales in Africa, Latin America and other markets that were less impacted at the time; it added 31 new overseas distributors. The company says it also "steadily developed" the North American market during the period.
Sales to OEM customers amounted to RMB 881.6 million (£97.0 million), 31.0 per cent of total sales; sales volumes with OE customers increased 29.0 per cent year-on-year. Sales to private label customers came to RMB 125.3 million (£13.8 million), 4.4 per cent of group sales.
Thailand output increasing
Production of all-steel tyres began at Prinx Chengshan's new plant in Thailand on 25 March, followed by the first semi-steel tyre on 18 April. The tyre maker plans for output from the facility to feed its growth in North America, and in the second half of this year it aims to sell 35 'made in Thailand' all-steel product lines and 175 semi-steel product lines in North America. Beyond this, Prinx Chengshan is scheduled to start the second phase of its Thailand factory project by the end of August 2021 and maximise production capacity four months after that. This expansion involves capacity to produce 1.2 million all-steel tyres.
Supply shortage expected
In light of current production capacity and anticipated future demand, Prinx Chengshan says it expects to "experience a serious shortage of supply." This will be countered by expanding production at the Prinx Chengshan (Shandong) Tire Limited facility. Measures to raise capacity there will be implemented in the second half of this year and in 2021 and will boost annual semi-steel radial capacity by 2.8 million units and all-steel radial capacity by 1.05 million units.